Tech@Work
Covid-19 is an opportunity to support local business, says Spot HR head
As small businesses around the world closed down and faced bankruptcy, Spot saw an opportunity to help others
"The pandemic, and especially having everyone work remotely, encouraged companies to migrate to the cloud and use our services," remembers Spot's head of HR, Vered Nimni.

As a cloud infrastructure service for companies, Spot became invaluable for small businesses who had to face lockdowns and take their businesses online during the Covid-19 era. "As a company, we chose to see this challenging period as an opportunity to support local businesses and suppliers," said Nimni. "We have sent several packages containing local products to our employees and encouraged them to buy local."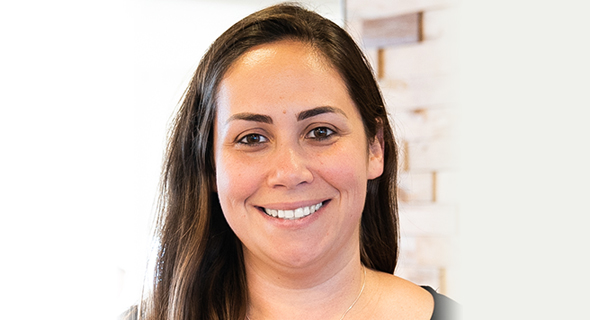 Spot's head of HR, Vered Nimni. Photo: Avi Granit 

Nimni, aware of the value that Spot brought to customers around the world, noted that it helped "expand the business" and it never stopped their growth as a company. Spot was acquired by NetApp for $450 million in June, and Nimni spoke to CTech about the efforts it made - both locally and internationally - to help companies who were less successful in their pivot to what we now know as 'the new normal'.

Company Name: Spot By NetApp

HR Leader: Vered Nimni, Head of HR

Field of Activity:

Spot assists companies get the most out of their cloud investments. With unique technology for cloud automation and optimization, we make it possible for companies to get the most out of their cloud investments through world-class CloudOps. Since delivering our first product based on that technology, our team has been busy helping customers save up to 90% on their computing costs.

Spot was founded with a vision to revolutionize the way companies consume cloud infrastructure services, using analytics and automation to deliver the most reliable, best performing, and most cost-efficient infrastructure for every workload on every cloud. From Amazon Web Services (AWS) to Google Cloud Platform (GPC) and Microsoft Azure, from web applications and containers to big data, our growing product portfolio is helping to fulfill our vision of changing the way that companies run workloads and applications in the cloud.

Number of employees/location:

We have 230 employees globally across five locations: Tel Aviv, New York, San Francisco, Washington D.C., and London. Our biggest office is located in Tel Aviv. Since March, we have been working remotely from various locations and now we are also hiring employees in different locations around the globe.

The professional background of HR Manager:

I have a Bachelors in Behavioral Science and HR Management. I've been working at Spot for the past 18 months, taking part in building HR processes, scaling the company, and supporting change management activity. Before that, I worked at several tech companies.

On a scale of 1-10, how much did the coronavirus pandemic disrupt operations at the company?

I would say 2 or 3.

At the time when the entire world, including Spot, was overwhelmed by the pandemic's effect, we announced NetApp's acquisition of Spot. In itself, an acquisition is an exciting and unique milestone that was even more significant during Covid-19.

The pandemic, and especially having everyone work remotely, encouraged companies to migrate to the cloud and use our services. The fact that our business model helps customers with cloud cost savings also expanded the business. Spot was one of the first companies to announce a full-time remote employment model. We created protocols for work-from-home and communicated virtually to support this decision and implement it with a minimum negative effect.

As a company, we chose to see this challenging period as an opportunity to support local businesses and suppliers. We have sent several packages containing local products to our employees and encouraged them to buy local.

As a global company, we are well trained to communicate from a distance but we felt the difference. We are keeping everyone connected by conducting company updates and activities, constantly updating our employees about the changes in the business in all aspects.

What interesting technological tools do you use in employee management/recruitment?

We were using Zoom and Slack to communicate globally before Covid-19, so the new reality just forces us to use it as the main communication tool. For recruitment processes we use Comeet, and for HR management we use Success Factor.

What positive and/or negative impact did the outbreak have on the human capital of the company?

On the positive side, our culture and values like customer obsession, professionalism, and communication proved to be our strongest assets, which helped us continue providing the best support to our customers and kept us united and productive during this time of uncertainty.

On the negative side, our in-office activities were stopped all at once and it took us some time to adjust and find the right alternative, it's an ongoing process. The lack of non-formal day-to-day communication like small talks in the kitchen or shared lunches is felt.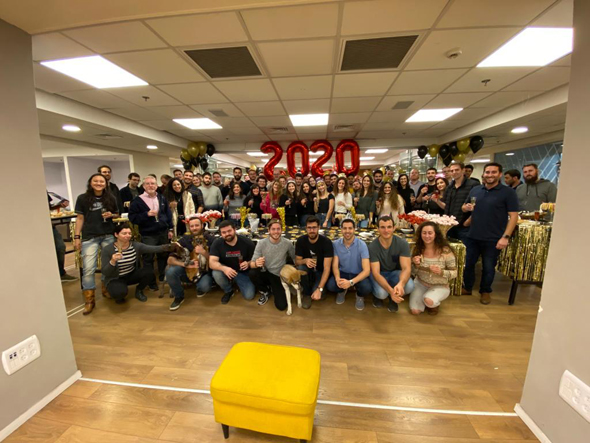 Spot's team. Photo: Spot by NetApp
What are the two major challenges you are coping with these days?
Onboarding employees remote with very few (if any) face to face interactions, engaging them to the company's culture and other teams. It is challenging for a new employee to start "alone" when in normal times there's always someone next to them they can ask for advice.
Another challenge we are facing is adjusting all HR processes and practices to work-from-home, especially areas of organizational and personal development and supporting managers leading their teams and engaging the employees.
Are you actively recruiting? If so, what is the process and where can the applicants find you?
The pandemic didn't stop us from growing. Since the beginning of Covid-19, we recruited 75 employees, 45 of them in Israel. Our career site is up to date with all of our open roles and some also appear on LinkedIn job postings.
We are actively recruiting a variety of roles for all departments and locations. Our entire hiring process is remote and we are making great efforts to show the candidates the true Spot candidate-experience.
All of the hiring managers were trained at the beginning of Covid-19 on remote interviewing, tools, and tips to keep the interview effective and pleasant. The remote process is faster and we are participating in virtual job fairs to help employees that were affected by the pandemic and lost their jobs.
Which changes forced upon you by the circumstances will stay in place after Covid-19 is over, and which are you most eager to revert to normal?
There are two sides to this coin: on the one hand, we would like to keep a part of the work-from-home employment model since it reduces commutes and allows employees to have more flexibles working hours and a higher focus.
On the other hand, we are eager to go back to the office for a few days a week to meet with other team members to share ideas, brainstorm, and promote innovation together.