Logz.io completes $23 million round E
Open-source company is growing at a rapid pace and added a record number of new clients in 2020
Israeli open-source company Logz.io announced on Tuesday the completion of a $23 million series E round led by Pitango Growth, with participation from General Catalyst who led the company's previous round. The latest round brings Logz.io's total funding to date to more than $120 million.
Logz.io was founded in 2014 by Tomer Levy and Asaf Yigal and it develops an open-source platform for developers that detects and alerts to both current and future bugs in the system. The platform is built on popular open source programs like Jaeger, Grafana, and ELK and combines AI platforms and advanced management tools. It can be dynamically adjusted to the needs of clients and offers optimization capabilities and reduced data storing costs, as well as allowing engineers to identify critical bugs in the system. In addition, the company also offers a popular information security product which allows organizations to protect their cloud infrastructure. According to Logz.io, the company is growing at a rapid pace and added a record number of new clients in 2020. Logz.io services over 800 companies across the world, including the likes of Unity, Siemens, Dish Networks, and ZipRecruiter.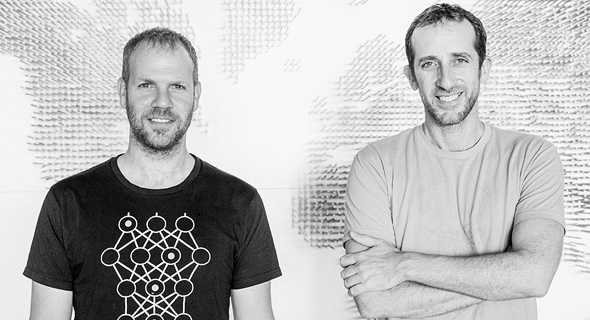 Tomer Levy and Asaf Yigal Logz.IO. Photo: Fabiana Kocubey

"The last two quarters were our best ever in regard to adding new clients," CEO and co-founder Tomer Levy told Calcalist. "Our entire market has grown significantly over the recent period, both due to the move to cloud services as well as companies going public."

Your last round in May 2019 was for $52 million and this time you raised a smaller round.

"We haven't touched most of the money we raised in the previous round, but we saw that it is unclear how long Covid-19 will continue and there is currently access to a lot of money. The entire process was remarkably short and took around 2-3 weeks. In addition, we didn't want to dilute the company too much by doing a $100 million round. The money was raised because we want to be more aggressive, like in acquisitions. These are things that we almost did in the past but never came to fruition and I hope that now we can do them because it is difficult to only grow organically. We currently have over 40 available positions in the company and that isn't trivial in a time like this. We are recruiting employees in Israel, Boston, and London in R&D but also in sales."

How has your growth been affected by Covid-19?

"There are two vectors - one of growth and another of clients that shut down, like in the restaurant business, with most of them not leaving completely but using our product less because we charge according to usage. On the other hand, clients like streaming service Sling TV, and others across the world, are back recruiting employees and are on the rise again. Overall, this has worked in our favor as due to the digitization companies are buying more products."

Did your product or service need to change?

"Our product is made to do exactly what it is doing today - moving companies to develop applications on the public cloud. What has changed is the way we are working opposite the client, whether due to companies shutting down or because what we had planned to do in a year we are now doing in three weeks. So we have reached clients that need a lot more consulting in moving to the cloud and digitization. Another interesting point is that gaming companies are doing really well at this time. We have developed an expertise in the gaming sector because of this growth and some of the biggest gaming companies are our clients."

Isaac Hillel, Managing Partner at Pitango Growth: "Logz.io can build, lead, and scale a domain which will serve as the backbone for the future of tech companies. With 800 active customers, strong revenue growth, and a stellar customer acquisition track record, I am confident in Logz.io's vision and ability to actualize it. The more I got to know the Logz.io management team, I wanted to bring Logz.io into our portfolio family."