Dubai Conference
"Israelis who want to operate in Dubai should come up with a clear plan and not go round in circles."
Khalaf Ahmad Al Habtoor, the founder and chairman of the Al Habtoor hotel and real estate consortium added: "Dubai is a link between the West, Asia, and the Middle East."



"I have been talking for 10 years about the need to make peace with Israel. Thank God that our leaders did that and made it possible for us to start building a relationship. This is a dream come true for me," said Khalaf Ahmad Al Habtoor, the founder and chairman of The Al Habtoor hotel and real estate consortium this morning at the first Israel-Dubai Conference organized by Calcalist, Bank Leumi, and Reshet 13.

"We are starting to establish a relationship, and we will see how we can collaborate for success. We complement each other, hence the potential for collaboration between the Emirates and Israel is very large," said Al Habtoor. He said of the UAE: "The UAE is a special place. The Emirates are different from each other, and you will see the different flavors here when you visit. Dubai, for example, is a city you will not find anywhere else in the world. There are 200 nations here. For example, there is a school with students belonging to over 100 nations, and different religions and they are like one big family. "

He added: "It should also be remembered that Dubai is a link between the West, Asia, the East Middle, and Africa. The connection with Dubai is an opportunity for Israel to gain contact with more countries."

Al Habtoor is the founder and chairman of the Al Habtoor Hotel and Real Estate consortium. Its assets are estimated at more than $8.5 billion and is considered one of the most prominent companies in the Gulf.

He began his career as an employee of a local construction company in the UAE and in 1970 he founded his own company - Al Habtoor Engineering. A year later, it was incorporated into the Political Federation of the United Arab Emirates, which allowed him to significantly expand the activity, which focused on innovative construction projects. Al Habtoor is not only active today In the fields of real estate and hospitality but also in the fields of automotive, education, and others. Its business has thousands of employees.

Al Habtoor noted in his remarks that Dubai is a convenient place to do business: "Over the years, we have built many infrastructures in Dubai, but these infrastructures are not only expressed on the roads and in real estate, but we have also built an infrastructure for doing business easily and conveniently. With us, you can start and work in a short time: The licensing process here is friendly and you can start work right away. I see significant potential for mutual investment of Israelis here, and of us with you," he said.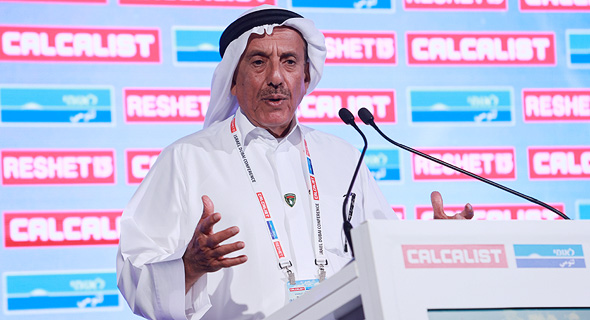 Khalaf Ahmad Al Habtoor. Photo: Uriel Cohen

In a conversation with Alon Ben David from Reshet 13, Al Habtoor was asked what his advice was to Israelis who want to do business in Israel. He said that the most important thing is to come up with a neat plan and do not go round in circles. "We do not like words, but deeds. I suggest not waiting for tomorrow. Come up with an orderly and clear plan with numbers: what the goal is, what you want to achieve, and how much you have to invest for it. I also suggest not raising issues of religion in the meeting. There are a lot of religions, and the issue of people's religion is irrelevant."

Al Habtoor also humorously added: "And stop with the matter of kosher food. Eat everything here offered to you, and do not be picky."

Aside from business activity, Al Habtoor is also unofficially a type of diplomat in Dubai, and in his remarks, he spoke of the importance of peace: "I do not like the word peace. For me, the relationship with Israel is not peace, but friendship, the development of a relationship." Al Habtoor was asked what reactions he received from the Gulf states about the establishment of the relationship with the people of Israel and answered that he believes that 90% of the people want to live in peace.

"Who wants war? War is also something that costs a lot of money. Why buy a problem with money? What is the logic? There is no difference between people, people can do business with each other, which will only contribute and will help both sides," he said.

Al Habtoor was also asked about the U.S elections and the fear that President-elect Joe Biden would renew the Iran Nuclear Deal. He was cautious in his response, saying that the election of a U.S president is an internal American issue, and he should respect what the citizens of the United States have chosen. He refused to expand on his position on the Iran issue.

Al Habtoor was also asked what Israel should do in the confrontation with Hezbollah, and said, "you have a border with them, and you have a lot of power, but you do not use it. I do not understand that."