Dubai Conference
"Adapt yourself. You will find someone in the right field, in the same business that suits you, do your homework."
Speaking at the first Israel-Dubai conference of Calcalist, Bank Leumi, and Reshet 13, Sultan Ahmed Bin Sulyem shared some of the country's history and offered sage advice to his Israeli audience.



"I'm happy to see new groups of Israeli businessmen. I was in Israel for three months in 2018 for medical treatment for my daughter. It opened my eyes because here we do not hear good news about Israel. I saw the people, I lived among them and it was amazing. To understand the people, you need to see people in their country." This is how Sultan Ahmed Bin Sulyem, chairman and CEO of the ports and logistics giant DP World opened his remarks at the first Israel-Dubai conference organized by Calcalist, Bank Leumi, and Reshet 13.

The company is currently bidding on a tender for the port of Haifa. Bin Sulyem, considered one of the leading and best-known businessmen in Dubai and who conceived the idea of ​​the artificial Palm Islands, described in his speech the development of Dubai over its 50 years of existence and explained how it became one of the most prosperous places in the world. Finally, he also gave some tips and advice to Israeli businessmen.

"Today there is a new world. Many changes are taking place in the world but changes are a part of life. Without them, it would have been boring and they give us the motivation to innovate. We gathered today to explore what we can do together."

Why has Dubai grown faster than other parts of the world? How did it become strong?

"We have a good location, but there is also great importance to leadership that directs and shapes and gives people incentives to promote business. There were many challenges in the beginning, in the 1970s. It is true that we have oil, but it is a resource for a limited period. After finding the oil, the construction boom began: ports, universities, schools, hospitals, infrastructure, and airports.

"In the 1980s, emphasis was placed on trade, and improvements were made in ports. The 1990s was the decade of tourism. Today, Dubai airport is one of the busiest in the world after being significantly expanded. It is seemingly possible not to land in Dubai these days on long flights as was once necessary because planes can fly for much longer periods. There was a fear that they would start skipping over Dubai so it was decided to set up golf courses, hotels, and resorts to attract tourists with money. Today there are millions of tourists here, how did we do that?

"There were contractors, like Khalaf Ahmad Al Habtoor who spoke before me, who received incentives from the state to build hotels. Our government said: 'take the land and open resorts and hotels free of charge'. But businessmen feared it and did not want to do it. The leadership was smart and the country itself began to build hotels and attracted tourists. Business people then changed their minds and set up impressive tourist sites.

"In this context, I was also asked to find an architect to set up a hotel area and it turned out that there was a beach strip of only 60 km and we needed more. Thus the Palm Islands were born, which today inhabit hotels, residential neighborhoods, and commercial centers. In 1997-98, we dealt with a study of how the establishment of artificial islands will affect the environment such as the water level in the bay, and now we are all on these islands.

'The year 2000 was the year in which technology made its entrance - what was defined by the leadership as the "e-government". The Sheikh wanted people to start adjusting to the new era. Once everything related to the government became digital, the public also began to use computers. And what about 2020? This year we have a space plan, we're building a spaceship."

The question is why has Dubai become such a success?

"One of the most important years was 1982 when the realization began that in twenty years oil would run out. The leadership understood that you need to look forward and outward and today oil's share in Dubai's GDP is only tiny.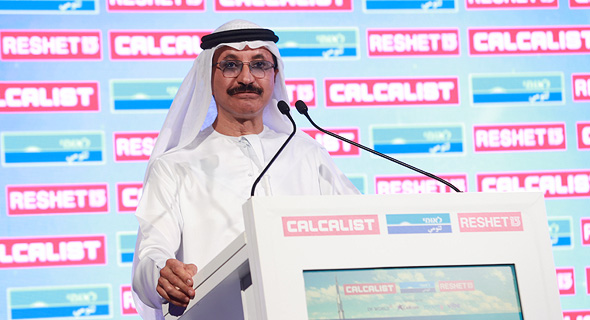 Sultan Ahmed Bin Sulyem. Photo: Uriel Cohen

"There were quite a few crises along the way. For example in 1979, while Iran and Iraq were fighting, Dubai built a port. We realized that the area might be less stable and dangerous, but we needed to keep developing. The war will be over and we have a mission to persevere with. In 1990 - the Gulf War - we were not afraid and continued with our development plans. Then 9/11: airlines stopped flying, again hurting oil prices.

"This was also the case in the financial crisis of 2008. Everyone predicted that Dubai would collapse because the economy was highly leveraged. The government said it would not help, you have a board and a business plan, move ahead with it. The government allocateed $100 billion to further develop Dubai. And so Dubai rose instead of falling.

"My message is that it is precisely when there is a crisis that amazing ideas are born. When there is a passion for something it works, the right decisions are made in a crisis, when there is no choice. So today, Dubai is an amazing city - among the top ten places in the world for doing business. A three-hour flight takes you to two billion people. Getting to Mumbai is only a two-hour flight from Dubai. If you want to transport something there, there are flights and ships several times a day, in the port of Dubai, it takes an hour to unload a container. Haifa to Baghdad is 900 km. Baghdad to Basra is 700km. Sending something by sea is faster than inland transport.

"DP has a presence in 60 countries, 85 terminals worldwide. In recent years we have invested billions in logistics, systems, and solutions. Our goal is not only to get ships in ports but also to improve the supply chain. We can continue from Haifa or Ashdod to Baghdad. Eilat also has interesting opportunities. Dubai-Ethiopia-Eilat - and from there to Europe, this is a much shorter route than the "triangle" route that was done until today.

"My advice - adapt yourself. You will find someone in the right field, in the same business that suits you, do your homework. Show me a business that interests me as a trader, do not waste time contacting everyone.

"Wishing you success, we will support you, we are very excited for future cooperation."