Tech@Work
Nothing can replace the personal touch, says Israel's #1 Startup to work for
Even though BigID was ranked by Dun & Bradstreet as the best startup to work for, its Head of HR, Dana Fischer, revealed how the company struggled with Covid-19
"With all due respect to our fancy training system, nothing can replace the personal touch," said BigID's Head of HR, Dana Fischer. The data protection company has seen 'tremendous' growth in 2020, but working from home has still put a damper on the interpersonal relations.
BigID made efforts to maintain their sense of community during lockdowns, such as providing free babysitter services and checking in on employees who live alone, but Covid-19 naturally posed unique challenges for HR teams.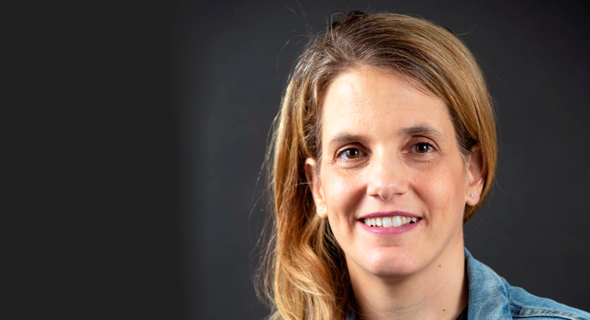 BigID's Dana Fischer. Photo: Shai Davis

Fischer joined CTech for its HR Post-Covid series to explore how the company became Israel's number one startup to work at despite these unprecedented challenges.

Company Name: BigID

HR Leader: Dana Fischer, Head of HR-Israel.

Field of Activity: Machine Learning-Driven Privacy and Personal Data Protection

Number of employees/location: In Israel, 85 - Global, 230.

Professional background of HR Manager:

I am an experienced Human Resources Partner with a demonstrated history of working in the human resources industry, mostly in startups.

On a scale of 1-10, how much did the coronavirus pandemic disrupt operations at the company?

3. Specifically during this period, we made the decision to open a record number of postions and to recruit with the full intention of seizing the opportunity and snagging the great talents that unexpectedly found themselves back on the market. Because we had raised funds, we were able to leverage the Covid-19 timeframe to expand our competitive advantage and continued to hire with the ongoing goal of improving our product. The situation made it possible for us to hire people who otherwise may have not been open to making a shift. We had plenty of opportunistic hires as well, where we identified a specific talent even when we didn't originally plan to fill a role, but we went ahead and snagged those individuals. It's important to note, though, that with all that, we made sure not to take advantage of the situation and all along remained aligned with the market as far as compensation and employment terms.

What interesting technological tools do you use in employee management/recruitment?

Our systems help to onboard new employees in that every new employee receives access to the system and in a very simple, accessible, and straightforward manner they can see all of our information and processes. We make sure that every new hire updates their photo in the system so that other employees can easily connect a face to a name, especially as we grow this quickly. In addition, we launched an internal training portal that captures video tutorials and sessions about the product so that each employee has that available to him/her at every given moment and connects to the product much easier than if they had to go through written training stacks. Needleless to say, though, that with all due respect to our fancy training system, nothing can replace the personal touch and we ensure that each and every new hire gets that as well.

What positive and/or negative impact did the outbreak have on the human capital of the company?

Once a week we hold a virtual Happy Hour and we've been very diligent with keeping the human connection with our employees. We continuously ship pampering surprises to our employees (ice cream, customized games based on their household situation, etc.)

During the lockdown, we made sure to check in with employees who live by themselves and/or those who were experiencing some anxiety to make sure they feel a sense of belonging and connection. For the parents among our employees, we funded unlimited babysitters to help them balance between work and childcare. The feedback from our employees was very positive and they were incredibly appreciative.

What are the two major challenges you are coping with these days?

The work-from-home (WFH) method worked really well with our employees and I am genuinely proud of them - and we've said that to them every chance we got. However, what has helped us succeed to date are our friendships and the sense of togetherness. Our community is very strong, and it feels like one big happy family. My feeling is that working from home takes more from us than we realize today. Having said that, the world is shifting to working from home and I acknowledge the advantages in that as well, and therefore our challenge becomes implementing a hybrid model that combines working from home and from the office. Today we work from the office three days a week and the other two from home so that we can sustain the sense of togetherness while we keep up with the social distancing guidelines.

Are you actively recruiting? If so, what is the process and where can the applicants find you?

Now more than ever. Our R&D center has doubled itself in 2020 and the year isn't over yet. We recently were awarded first place in the Best Startups to Work For in Israel, which helped in building an incoming stream of candidates and has really been helpful in our recruiting efforts. In addition, one of every 2.5 employees came through our Employee Referral Program, which is currently our most effective recruiting source. Our employees are our best ambassadors for our company and product.

Which changes forced upon you by the circumstances will stay in place after Covid-19 is over, and which are you most eager to revert back to normal?

We are continuously adjusting ourselves based on the occurrences and I am certain that Covid-19 will have a long-term effect on the future of the hybrid work model, where employees find the right balance between working from home/office. I truly believe that is here to stay way after Covid-19 is gone.

As mentioned, we've grown tremendously during Covid-19 and the absence of in-person social activities and connections is clearly felt. In the past, we were very good about holding such events since startups are largely based on the spirit of the team. Today we have to stick to smaller gatherings or virtual events and no matter how much we invest in those zoom-based "outings", nothing compares to the real thing where there is in-person interaction. We are really looking forward to "the day after" so that we can go back to that good old face-to-face human connection that used to be so natural to us.