Iguazio signs strategic agreement with Sheba Medical Center for real-time Covid-19 treatment
The data science platform will be facilitating Sheba's transformation using AI to help predict and mitigate Covid-19
Israel's Iguazio ltd., developer of the Data Science Platform for machine learning applications, has announced a strategic partnership with Sheba Medical Center's ARC (Accelerate, Redesign, Collaborate) innovation complex. Its goal is to deliver real-time AI for clinical and logistical use to improve patient treatment of Covid-19.
There are two main projects that Iguzaio will assist Sheba in: the first is the optimization of patient care through clinical, real-time predictive insights via its Data Science Platform. Sheba will incorporate vital signs by using patient history to predict and mitigate Covid-19. The second project helps optimize patient journey with smart mobility solutions when traveling to and from hospitals, including parking allocation, shuttle arrival times, or patient routing and waiting times.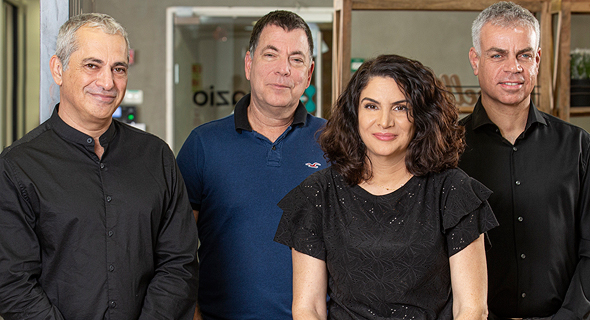 Iguazio's co-founders: Yaron Haviv, Yaron Segev, Orit Nissan-Messing, and Asaf Somekh. Photo: Iguazio

"We are honored to be supporting Sheba, a global leader in healthcare innovation, especially in the midst of the current pandemic, when the community is relying on health facilities the most", commented Asaf Somekh, Co-Founder and CEO of Iguazio. "Incorporating AI into these many real-time use cases is setting a new standard for medical centers worldwide."

"Bringing real-time AI to every aspect of Sheba's emerging City of Health is the next step in our digital transformation," said Eyal Zimlichman MD, MSc, Sheba's Chief Medical Officer and Chief Innovation Officer - as well as the founder of the ARC innovation complex. "After months of perfecting our AI research across many use cases, it's time to bring them to life in our daily operations."

Sheba Medical Center is the largest medical center in the Middle East and has a history of adopting innovative solutions. Its ARC innovation complex was specifically designed to advance academic medical centers and collaborates with VC funds and academic centers. Its portfolio includes companies like Virusigh Diagnostic, spectral analysis technology for Covid-19 diagnosis, and MICA AI Medical which can help detect early signs of breast cancer.

Iguazio was founded in 2014 by Somekh, Yaron Haviv, Yaron Segev, and Eran Duchan. Its platform enables enterprises to develop, deploy, and manage AI applications at scale and in real-time. To date, it has raised a total of $72 million to help verticals such as financial services, manufacturing, smart mobility, and telecommunications.