HR Post Covid
Ex Libris: Remote working had a 'significant impact' on diversity
Covid-19 pushed the EdTech company to hire remotely and expand their candidate pool to a range of locations across the country
While many of us think about the employees and students who shifted to online meetings and classes during Covid-19, little is said about the companies that actually help provide those services. EdTech company Ex Libris, which helps institutions with higher education and research, was not immune to the challenges brought on by the pandemic.
"From an HR point of view, it had a significant positive impact on diversity," said Ex Libris' VP of Human Resources, Sarit Olamy. "Working from home allowed us to geographically expand our recruitment efforts and reach out to candidates across the country. We got a chance to hire new talents in a range of locations, outside of central Israel."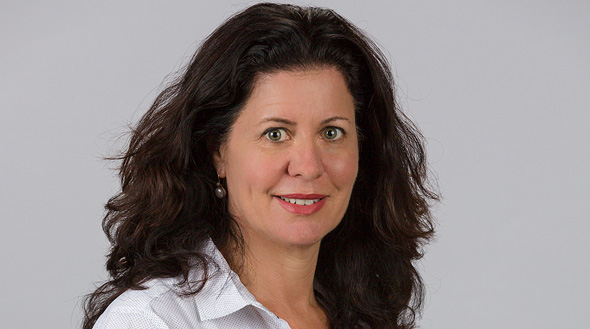 Sarit Olamy, VP of Human Resources. Photo: Ronen Horesh

Olamy joined CTech for its HR Post-Covid series to discuss how the company adapted its recruiting efforts to fit in with a world that quickly went remote. And with remote possibilities came diverse solutions:

Company Name: Ex Libris

HR Leader: Sarit Olamy, VP of Human Resources

Field of Activity:

Ex Libris is an Israeli SaaS company, a leader in the EdTech industry, and global provider of cloud-based solutions for higher education and research. The company offers SaaS solutions for the management and discovery of the full spectrum of library and scholarly materials, as well as mobile campus solutions that drive student engagement. Ex Libris works with more than 7,500 academic institutes in over 90 countries including Harvard, Yale, Oxford, Imperial College, and many others.

Number of employees/location:

The company's headquarters are located in Jerusalem, Israel. Ex Libris employs over 1,000 people, of which more than 500 are based in the Israeli office and the rst work out of the company's various offices around the world. Most of the company's R&D operations are executed locally.

Professional background of HR Manager:

I joined Ex Libris back in 2003 and since then served as the company's VP of Human Resources. Prior to that, I worked in various HR positions at Intel, Amdocs, and Trellis Photonics. I earned my MBA from NY Polytechnic institute with a specialization in HR.

On a scale of 1-10, how much did the coronavirus pandemic disrupt operations at the company?

I would have to say 2. Sure, the shift to remote work was abrupt – and honestly, up until the pandemic, our approach towards work from home was a bit conservative. Yet the transition ended up being surprisingly smooth and almost didn't have an effect on our daily operations, as our employees rose to the occasion and quickly adjusted to the new working practices. Many of the teams even stated that they were more productive than ever, despite the circumstances. We did, however, have to go the extra mile in order to make that happen. Each employee was given a grant in order to "build" their new home-offices, and we allowed employees to pick up any necessary equipment from our offices – from chairs to screens, and so on.

What interesting technological tools do you use in employee management/recruitment?

We use the same technological tools that served us before the pandemic, but the frequency has certainly changed – our R&D teams, for instance, who use either internal systems or common project tracking platforms like Jira, are now holding virtual catch-up meetings on a daily basis in order to keep everyone in sync outside of the office environment. Naturally, our use of Microsoft Teams had significantly increased as well.

What positive and/or negative impact did the outbreak have on the human capital of the company?

Despite the quick adjustments, the crisis and its by-products surely posed some obstacles along the way. We all truly miss the office environment, and our managers particularly raised some concerns regarding how to successfully manage teams from afar. We decided to set up training sessions for executives, in which we instructed them on remote-management and discussed how to maintain employee engagement within the new framework. We also formed some informal communication channels through which we can all stay in touch – like "Lunch and Learn" gatherings, happy hours, lectures, and activities.

The shift to remote work had its benefits as well – from an HR point of view, it had a significant positive impact on diversity. The work from home allowed us to geographically expand our recruitment efforts and reach out to candidates across the country. We got a chance to hire new talents in a range of locations, outside of central Israel.

What are the two major challenges you are coping with these days?

Our biggest challenge to this day is our employment experience. We have many employees who have been working in Ex Libris for decades – and all of the sudden, their home screens are a window into office life. It's hard to convert the casual hallway conversations into an online format – we realized that we have to figure out new ways to preserve our organizational culture and create a sense of belonging within the new operating model. We host online company events on a regular basis – from Zoom concerts of leading artists like Ehud Banai and Hanan Ben Ari, to virtual cooking classes and dedicated workshops. We initiate daily activities and put an emphasis on contribution to society, as we regularly collaborate with NGOs, local producers, and small businesses to add some extra value. We invest in our people and try to express our gratitude for their hard work in settings that are clearly not ideal.

Simultaneously, we're challenged by the preparations for the day after the pandemic. We already decided that employees won't have to return to the offices until July 2021, but there's still a lot of uncertainty that encompasses our organizational decisions. What will the labor market look like after Covid-19? Should we embrace a more hybrid working model, that would combine work at both the home and the office? And how should we rearrange our 6,000 sq/meter offices accordingly? These are all questions that we raise today as we navigate our way through the new normal.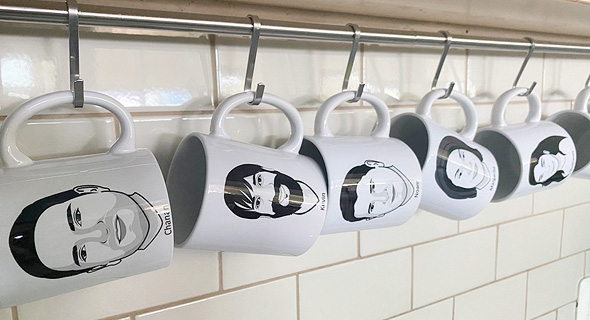 Office mugs at Ex Libris. Photo: Ex Libris

Are you actively recruiting? If so, what is the process and where can the applicants find you?

The distance learning in academic institutes generated a lot of work for the company throughout the crisis. Since March, we recruited dozens of new employees and we're still looking to fill more positions. We built a new, online recruiting method that turned the entire application and on-boarding processes into a virtual format. We guided our recruiters on online interviewing, as we understand that there are different things that one should pay attention to, and we even prepared an online office tour for candidates. Applicants can find available positions on our website's careers section, as well as on our social media channels – Linkedin and Facebook in particular.

Which changes forced upon you by the circumstances will stay in place after Covid-19 is over, and which are you most eager to revert back to normal?

Understandably, we're most eager to meet each other in person again without any risk and to get to know our new employees better. In the meantime, we understand that the work culture of all companies will change and that we would have to adapt ourselves accordingly. We would definitely embrace new processes that make our day-to-day work easier and more efficient. Our virtual recruitment process, for instance, had made the entire procedure much more convenient for both interviewers and employees, as there's no need for approximately three or four physical meetings with each candidate. Additionally, while we certainly miss the face-to-face meetings, we've learned that not all meetings have to be conducted physically and we would probably hold more virtual gatherings even once things go back to normal. As we still shape our new working habits, we already know that things won't return to be exactly as they were.