Opinion
Israel is missing Covid-19's biggest opportunity
The government should have set a goal to get thousands of business leaders, entrepreneurs, engineers, brilliant minds and investors to immigrate. Israel has as much or more to offer than Miami or Austin. A 10x acceleration of the Israeli economy was within reach. Perhaps, it still is.
Remember the name Francis Suarez. Suarez is the big winner of the great Covid-19 economic displacement.

Remember the name Bibi Netanyahu, his ministers, and advisors, who tragically missed that same Covid-19 economic opportunity.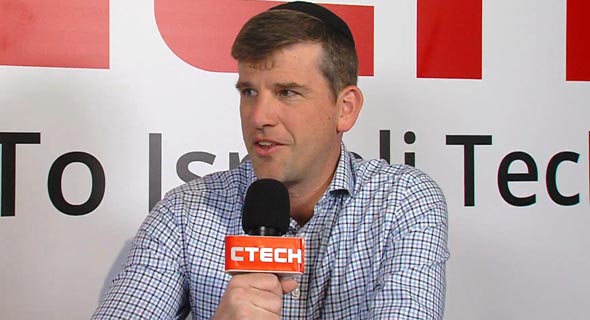 Michael Eisenberg speaking at Mind The Tech in 2019. Photo: live4u

In the past year, Prime Minister Netanyahu and his advisers have deprived the Israel of hundreds of thousands, and perhaps a million, Jews. He has squandered an opportunity to bring here brilliant minds and big hearts of all stripes. He missed out on entrepreneurs, engineers and investors with billions of dollars to deploy. It is also possible that the paralyzed Israeli government ignored a handful of Nobel Prizes and international tech companies that could have changed the future trajectory of our country and the world.

Netanyahu did not proactively undermine Israel's national resilience, he just didn't do anything about it. Considered one of the most intelligent leaders in the world, Netanyahu failed to take advantage of the immense opportunity to attract future human and financial capital to the country. Netanyahu lost the battle for their hearts, minds, and money to a handful of municipal politicians who took advantage of his passivity and myopia to gain a precious resource that fundamentally changed their future.

Much has been written about Israel's handling of the Coronavirus, both health-wise and economically. Like in other economies, Covid-19 revealed structural unemployment that was hiding beneath the surface and was poorly handled. The government gave out grants to people to stay at home instead of encouraging employment. They continue to provide endless unemployment benefits instead of retraining and back to work programs. The lack of concern for economic development of our young recently discharged soldiers is stunning. These are the best years of their lives to develop skills. The chronic lack of a national budget due to endless elections and electioneering coupled with the economic management of the crisis will take a heavy toll on us for many, many years.

The fossilized economic thinking of Bibi's ministers and advisors is firmly rooted in the 20th century except that the world is fast progressing a 21st century economy, one that Israel's high tech sector is famous for. From the beginning of the virus outbreak, we have also seen how digitization has accelerated trends that require new economic, regulatory and employment policies. Zoom, digital payments, and high tech deliveries to name a few are now the new normal. Therefore, it is shocking that almost nothing has been written about the failure of Israel to capitalize on the huge Coronavirus opportunity inherent in this disruption of work and living.

At the end of the summer and after the government's good initial handling of the virus, I called ministers, Members of Knesset and senior officials in the Ministry of Finance and the Prime Minister's Office to talk about the human capital opportunity for Israel. I also sent a detailed letter and plan to the Prime Minister's Office to establish an emergency department in the Prime Minister's ffice to encourage immigration. I told them there was an opportunity to attract large investors, entrepreneurs and engineers, Jews and non-Jews, to Israel.

The economy of the 21st century is an economy of hearts and minds, of entrepreneurship and technology. The people who are the engine of this 21st century economy were in motion in the age of Covid-19. They were rethinking their values, their place of residence and the communities, cities and countries, their businesses and ventures would live in. They could also work remotely due to Zoom. These talented people were actively thinking about leaving New York, San Francisco, and other places and they were looking for a new home for themselves, their families, and their businesses. They were looking for a welcoming city, state or country, one with a service mentality that would provide services, reflect and enhance their values, and have minimal regulation for new emerging technology. A place that would be immigrant friendly.

I even told them that I had heard from some friends - investors living in New York - that British Prime Minister Boris Johnson had called on some large investors to attract them to move to London with far-reaching benefits and red carpet treatment if they emigrate.

Power and opportunities abhor a vacuum. While the prime minister's chief economic advisors twiddled their thumbs, other service-oriented politicians were working feverishly to attract that entrepreneurial talent and investors that want to be near them. As the fog begins to dissipate, we understand that Netanyahu was defeated by Miami Mayor Francis Suarez, who attracted many Jewish (and obviously non-Jewish) investors from New York and technology entrepreneurs from San Francisco. The high-tech community in general and the Jewish community in Miami are celebrating. The mayor of Austin, Texas also attracted Jewish CEOs like Larry Ellison and Oracle and other companies like Tesla, Apple, and others. And how many investors, entrepreneurs, or technologists came to Israel or expanded here? Zero.

Cynics - or in other words bureaucrats and senior advisors to the politicians - will surely say that it is more difficult for an American to change his residence to Israel where the culture is different, but this is a defeatist perspective and one not worthy of Zionist vision. Are we just a default state for people fleeing anti-Semitism?

I kept nagging the government. Months after those conversations and the letter, MK Moshe Arbel agreed to advocate, convening the Knesset's Aliya and Absorption Committee to discuss the topic. At the Zoom meeting, I talked about the bureaucratic difficulties facing Jews who want to come to Israel permanently or to visit, even for those who are entitled to make Aliya under the Law Of Return. But mainly I talked about the lack of government initiative to capitalize on the opportunity to bring engineers, entrepreneurs, investors, and high tech companies to our Mediterranean shore. In short, about missing the opportunity for a better economic future for us, our children, and grandchildren.

MK Arbel also spoke forcefully about the opportunity. Committee Chairman, MK David Bitan Likud (may God send him a speedy recovery soon and then dismiss him from the Knesset), was dismissive, showing zero understanding of the opportunity and the challenges. The meeting was perfunctory at best.

This opportunity was known to the closest and most senior economic advisors to the prime minister. The closest advisors. I know because I spoke to each of them personally. Generally, opportunities don't come back. A government without aspirations, without vision, without a budget, and without a Zionist spirit cannot take us into the rest of the 21st century. The prime minister and his economic advisers do not understand the importance of human capital. This lack of understanding also puts our current human capital at risk. There is no standing still. If a country, city or state does not grow its human capital, it will shrink and that place will be challenged financially in the coming decades.

I do not usually talk about private conversations I have with senior officials, ministers, or MKs, but this time there is no choice. We still have time to change direction. That is a Zionist spirit and I refuse to give up. We need to emulate Mayor Suarez. We need to roll out the red carpet, and provide service to talent and capital. The failure of the prime minister and his subordinates will cost us dearly and vaccines themselves will not solve this problem. It is not too late but we are starting from behind. Tel Aviv is a great city. Israel is a great country with wonderful people. Let's start attracting those in motion and get serious about it.

Michael Eisenberg is a co-founder and Partner at Aleph, a $150 million early stage venture capital fund which has invested in WeWork, Lemnade, and more.