MASSIVit is eyeing a TASE IPO at a valuation of over $200 million
Manufacturer of large-scale 3D printers for heavy industries aims to raise $60 million by going public in January
Israeli large-format 3D printing company MASSIVit 3D will try to raise NIS 200 million ($62.2 million) in a Tel Aviv Stock Exchange IPO set for January 2021 based on its 2020 H2 reports. The company's valuation upon issuance is expected to reach NIS 700 million ($217.7 million). People with knowledge of the move also told Calcalist on condition of anonymity that the company is in the midst of a NIS 35 million private funding round ahead of going public.

MASSIVit was founded in 2013 by Gershon Miller, Avner Israeli, and Moshe Uzan. Miller was a co-founder and CTO of 3D printing company Objet Geometries, Uzan was a project manager at HP Scitex, while Israeli held senior positions at Objet and Stratasys. MASSIVit specializes in high-speed three-dimensional printing and is capable of producing large items made out of complex materials. Since its launch, the company relied on funding from its founders and private investors as well as grants from Israel's Chief Scientist's Office. It is estimated to have raised $30 million to date.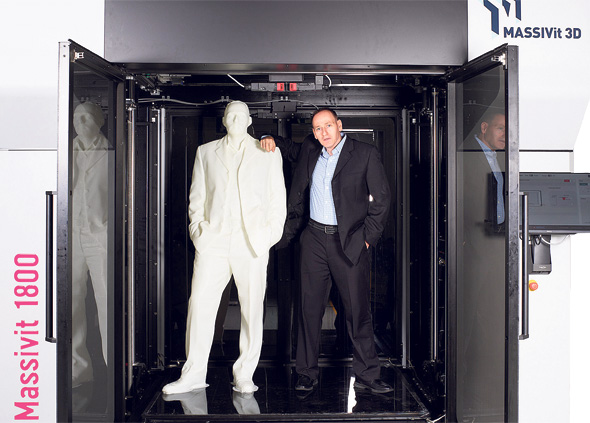 MASSIVit 3D CEO Erez Zimemran. Photo: PR
Between 2017-2019, MASSIVit's sales stood at $50 million, however sales dropped amid the Covid-19 crisis, which impacted its 2020 results as well as those of the entire 3D printing industry due to the decrease in printing needs and the lockdowns that affected many businesses. Recent weeks, however, have seen the industry recover somewhat with Stratasys, for example, doubling its Nasdaq valuation, and Israeli printing startup Nano Dimension also recording impressive gains.
The rising tide of the industry is primarily the result of companies turning to the industrial-scale printing of metal and wood products, and in MASSIVit's case, of polymers that are used in the automotive and aviation sector. MASSIVit, led by Erez Zimerman, operates out of the central city of Lod and specializes in high-speed three-dimensional printing and is capable of producing large items made out of complex materials. The company has sold 150 units of its advanced printers all over the world, including to companies in the U.S., Singapore, South Korea, and Japan. Its printers are unique in that they are meant for heavy industries such as car, plane, and train manufacturing, printing lighter versions of replacement parts using advanced polymers. One of MASSIVit's biggest clients is French rail company Alstom, for whom it produces replacement parts.
Last month, MASSIVit announced it had signed an agreement to supply its printers to Italian company Biesse Group. The deal's details have not been disclosed but it is estimated to generate the Israeli company revenues of between $60 million and $80 million over the next five years.