Child's Play? Edgify's new kid's book educates about themes of AI collaboration
The book introduces a group of fish who share information to make better decisions - just like its edge computing AI framework
Israel-based Edgify, which develops AI models on edge devices to bypass the cloud, has authored a children's book to help kids (and investors) understand its technology. "Edgify - A New School of Thinking in AI Training" follows Goldie the fish as she and her friends try to cross the ocean to a coral paradise using federated learning as a method of collaboration.
"The notion of clouds is so embedded, the centralized place where everything is located and you can access it, and so we figured we need to change that mindset first," explained Edgify's CEO and co-founder, Ofri Ben-Porat, when discussing how the book intends to explore the idea in a digestible manner.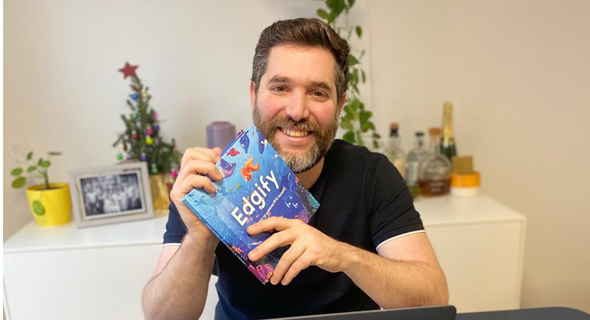 Edgify's co-Founder and CEO, Ofri Ben-Porat. Photo: Tal Caspi

Edgify develops a 'distributed and collaborative' framework helping AI train directly from edge devices, like mobile phones, connected cars, or retail cash registers, without sending or transferring data to a cloud. These devices then send the learnings to other similar devices helping them learn from one another without relying on a centralized cloud to store the information.

"If we could teach phones to analyze their own data, we can also teach them to train their own AI model based on that data, and hence the cloud becomes obsolete," he explained. "If you can analyze the data where it's generated, and train it, then you really don't need to transfer anything to the cloud ever for any purpose." The process can be compared to learning 'on-the-job' versus reading manuals.

The process, often called Edge Computing, is the latest trend in deep tech that could help transform the way AI models are formed and their relationship with the cloud. Edgify wanted to represent this notion of distributed and collaborative learning, rather than centralized, and so it wrote a book aimed at children exploring these concepts.

Ben-Porat described the book as "an important stepping stone in starting this transition" in our relationship with the cloud. Sure, storage and collaborative photo albums between family members won't go away anytime soon, but Edgify claims that training AI on the cloud presents privacy and security risks that can now be avoided entirely.

In the book, the concept is represented by the fish who travel across the seas to their paradise coral by exchanging ideas and 'collaborating' with one another when sharing skills and experiences while they travel.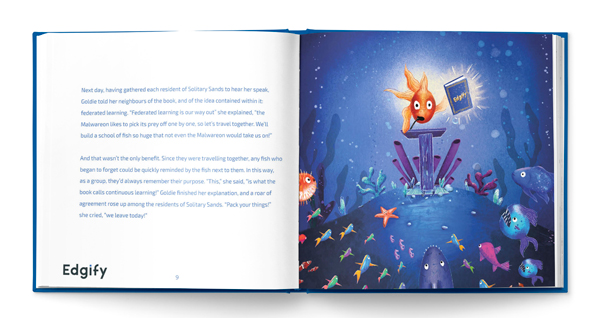 "Edgify - A New School of Thinking in AI Training" Photo: Digital Radish

Feedback on the book has been largely positive. Aimed at 8-12-year-olds, Edgify has sent copies to AI researchers who can read the concepts as a bedtime story as well as organizing webinars and live readings. "When asked about the morals (of the story), a lot of kids say that collaboration is key. It's a great moral but it's nice it comes in the sense of collaborative learning" for AI, Ben-Porat said.

Out of the ocean and back on firm ground, Edgify's technology is currently being used by checkout lanes that help retailers with item recognition at checkout. It recently secured $6.5 million in seed to help develop its technology further and transform how data is stored and organized to help train AI models. Goldie and her friends are currently only in book form, but the company has plans to extend their story with short videos that could explore unique use cases.