Facebook's algorithm exposes its human side by sharing AI models for predicting Covid-19 deterioration
The company's artificial intelligence researchers developed models that use x-rays to anticipate the progression of the disease in a patient and help hospitals prepare
Social media giant Facebook is publishing research conducted by its artificial intelligence (AI) unit in an effort to help healthcare providers determine in advance if a coronavirus (Covid-19) patient may need more intensive care solutions and adjust resources accordingly.

The research done in collaboration with NYU Langone Health's Predictive Analytics Unit and Department of Radiology, can help produce predictions based on chest x-rays.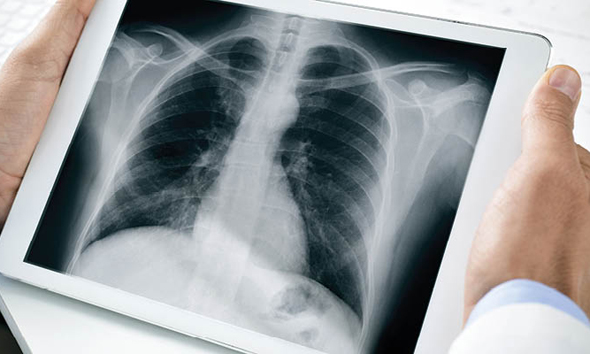 A doctor examining a chest x-ray. Photo: Shutterstock

"We have developed three machine learning (ML) models that could help doctors predict how a patient's condition may develop, in order to help hospitals ensure they have sufficient resources to care for patients: 1) a model for predicting patient deterioration based on a single X-ray, 2) a model for predicting patient deterioration based on a sequence of X-rays, and 3) a model for predicting how much supplemental oxygen (if any) a patient might need based on a single X-ray," the company said in a statement. "These predictions could help doctors avoid sending at-risk patients home too soon, and help hospitals better predict demand for supplemental oxygen and other limited resources."

The models, based on research carried out by Facebook AI researchers Anuroop Sriram, Matthew Muckley, Koustuv Sinha, and Nafissa Yakubova, have been published as open-source materials to assist the global healthcare community amid the ongoing outbreak of Covid-19.

"Based on reader studies that we conducted with radiologists at NYU Langone, our models that used sequences of X-ray images outperformed human experts at predicting ICU needs and mortality predictions and overall adverse event predictions in the longer-term (up to 96 hours). Being able to predict whether a patient will need oxygen resources would also be a first, and could help hospitals as they decide how to allocate resources in the weeks and months to come," the researchers said in the announcement.

Similar AI research methods are being used by various companies, including Israel-based Zebra Medical which uses artificial intelligence and machine learning algorithms for the automated analysis of radiological scans such as X-rays, CT scans, and MRI.

The social media giant, which has been in the headlines more often for its role in fermenting online extremism or accusations hurled against it for anti-competitive business practices, carried out the research as part of its AI department's wider goal of understanding and developing human-level intelligence.

"Our research covers the full spectrum of topics related to AI, deriving knowledge from data: theory, algorithms, applications, software infrastructure and hardware infrastructure. Long-term objectives of understanding intelligence and building intelligent machines are bold and ambitious, and we know that making significant progress towards AI can't be done in isolation. To do this, we actively engage with the research community through publications, open source software, participation in technical conferences and workshops, and collaborations with colleagues in academia.," the company said in a statement. "Since the outbreak of the global pandemic, Facebook's AI researchers have built adaptive models and collaborated with experts to help the world better understand the virus and its spread. AI is an important tool to support public health experts around the world in their efforts - Facebook AI is partnering with academic researchers and other experts on a range of initiatives related to Covid-19, and we have shared overviews for some of them throughout the last few months."

In October 2020, the company published AI-powered forecasts that predicted the spread of Covid-19 across the U.S. to better understand the disease's geographic progression and help healthcare providers prepare for surges in their region.