Opinion
Digital transformation must reach for the clouds
We often hear that the road towards the cloud is complicated, and to some extent that is correct. However, its benefits exceed its complications.
"Accelerating the digital transformation" are words we repeatedly hear. Until about a year ago, those terms were only used by CIOs and IT Managers, while nowadays they are used all over organizations, divisions, and departments.

Starting at the CEO level, everyone needs to know and understand that Digital Transformation is vital to the organization's survival, operation, growth, and revenues.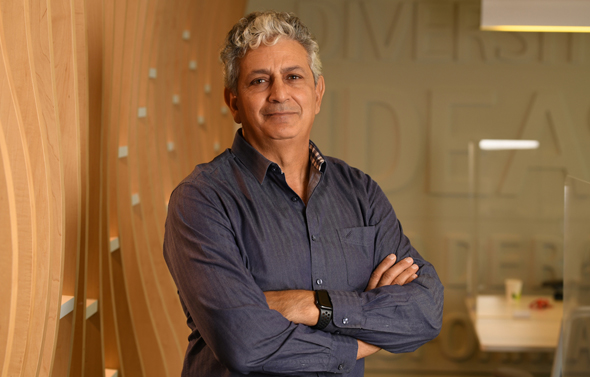 Accenture Israel's Country Managing Director, Shimon Elkabetz. Photo: Elad Gutman

Covid-19 has forced many organizations to adjust and rapidly implement strategic digital tools. Solutions which, under different circumstances, may have been taken years to adopt. Nowadays, organizations have been forced to change work processes, change methods of engagement and forms of communication with vendors and customers, support remote access, implement new technologies, and more.

When we meet our clients, whether it's the CEOs of leading organizations, Vice-Presidents of digital transformation, Senior Innovation leaders, and more, they share with us the heavy pressure they are facing driven by Covid-19: they must think and manage 'differently' and 'creatively'.

Today, it's more apparent than ever since almost every business is a technology business. The question is now: how do we move forward faster? How can we guarantee growth? How can we take advantage of new opportunities?

And the answer is the cloud. The cloud is the key to a successful end-to-end digital transformation.

As we move towards an era of remote working and online commerce, we can see in our latest research that two-thirds of the companies have not fully embraced cloud adoption, while those who did adopt it enjoyed greater cost efficiencies, improved service levels, and faster speed to market.

To narrow those gaps, Accenture announced the formation of Accenture Cloud First with a $3 billion investment over three years to help clients across all industries rapidly become "cloud-first" businesses and accelerate their digital transformation to realize greater value at speed and scale.

And what about the leading Israeli companies? They understand that the cloud, along with its services, is the path towards growth, sustainability, and risk reduction, and we see that it is the main component in their strategic plans.

We often hear that the road towards the cloud is complicated, and to some extent that is correct. However, its benefits exceed its complications. It's flexibility, elasticity, security, resource efficiency, ability to recover fast from a crisis, and of course, its data and AI capabilities show that the cloud is not an option, it is a must.

As a startup nation known for its innovations, we endorse change and will leverage it. Let There Be Change.

Shimon Elkabetz is Accenture Israel's Country Managing Director