StoreDot demonstrates 5-minute charge for lithium-ion batteries
Israeli company aims to be able to fully charge an electric vehicle in five minutes by the end of 2022
Israeli company StoreDot has showcased engineering samples of its first-generation 5-minute-charge battery. The new batteries can be used to power various devices including drones, electric motorcycles, scooters, power tools, and others.

Speaking to Calcalist, StoreDot CEO Doron Myersdorf said it was the first time that the world has seen a standard lithium-ion battery being fully charged in five minutes. "This was the first time we were able to demonstrate a completely standard battery, straight off the assembly line getting charged in five minutes."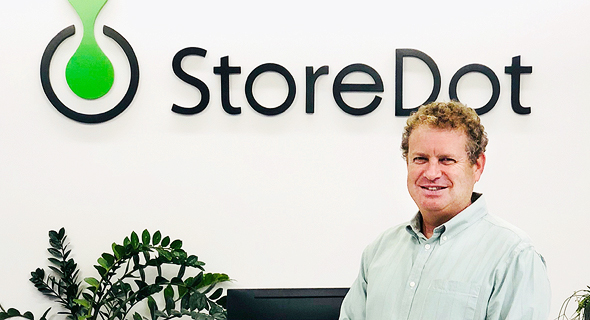 Doron Myersdorf. Photo: StoreDot

He added that the technology is not yet capable of charging electric vehicle batteries as it aspires to, but that the demonstration was a strong proof of viability for the company's XFC (extremely Fast Charging) solution.

"An EV battery will be presented before the end of 2021 and in 2022, the company will demonstrate the rapid charging of an electric vehicle," Myersdorf said.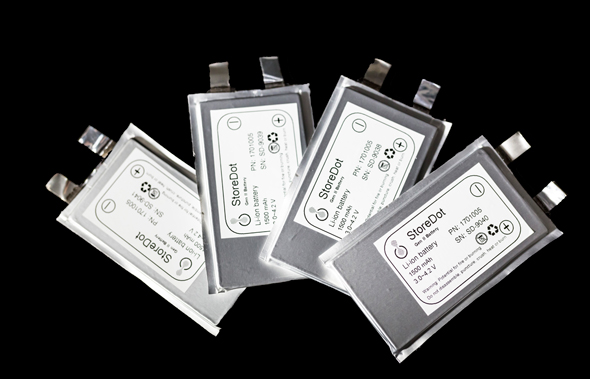 StoreDot's fast charging batteries. Photo: StoreDot

According to the CEO, from now on the company will focus solely on EV batteries with the rest of its activities transitioning to collaborations with manufacturers around the world. In 2018, the company signed a strategic partnership agreement with Chinese firm EVE Energy Co., Ltd. to produce the Israeli company's batteries.

"Today's announcement marks an important milestone, moving XFC for the first time beyond innovation in the lab to a commercially-viable product that is scalable for mass production. This paves the way for the launch of our second-generation, silicon-dominant anode prototype battery for electric vehicles later this year," Myersdorf added in a statement.

Founded in 2012 by Myersdorf, Prof. Simon Litsyn, and Prof. Gil Rosenman, StoreDot operates out of Herzliya and employs dozens of people. It has raised a total of $140 million in four financing rounds. StoreDot's strategic investors include BP, Daimler, Samsung Ventures, and TDK.