Israel's CardinalOps completes $6.5 million seed round
The cybersecurity company founded by the founder of LightCyber uses AI to overcome human error in the management of organizations' cyber systems
Israel and California-based cybersecurity company CardinalOps Ltd. announced on Thursday that it has raised $6.5 million in a seed round led by Glilot Capital, Battery Ventures, and several established security industry leaders. The company was founded by serial cyber entrepreneurs Michael Mumcuoglu (CEO) and Yair Manor (CTO). Mumcuoglu had already secured an investment from Battery Ventures for a previous company he founded named LightCyber, which was also Glilot Capital's first investment. LightCyber went on to be sold to Palo Alto Networks for $120 million. At around the same time, in 2018, Manor sold cyber startup Netonomy to Allot.

CardinalOps was founded at the beginning of 2020 after Mumcuoglu left Palo Alto having helped integrate LightCyber's technology. He joined forces with Manor who he knew from his time serving in IDF intelligence Unit 8200. The two traveled together to California to present their product at RSA, the world's biggest cyber expo. "It was the last time that the industry met in person prior to the pandemic breaking out and shuffling all the cards. When we landed in Israel, we were forced to go into quarantine after California declared a state of emergency," Mumcuoglu recalled. "We had to find the best way to create facetime with our potential clients, without meeting in person, in order to build the trust necessary to integrate our product into their organization and gain access to sensitive company data. Six months of flights, hotels, and meetings were replaced by lots of Zoom calls. At the end of the day, it was a successful year. We brought in major enterprise companies and multinational corporations as design partners, we learned the clients' needs and designed a product to meet their immediate needs."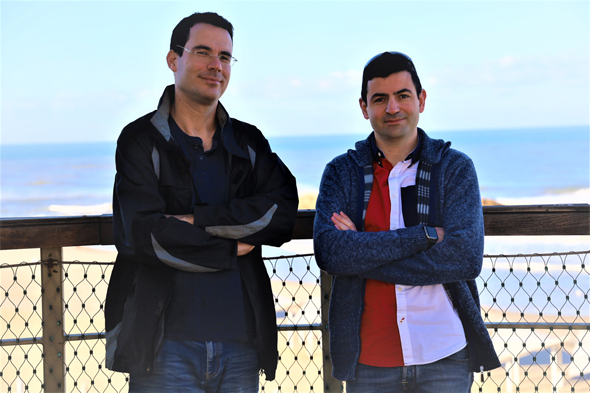 Yair Manor (left) and Michael Mumcuoglu. Photo: CardinalOps

The security world consists of many sub-fields that combine artificial intelligence technologies and automation to detect attackers, these are powerful security solutions, and any organization with significant activity possesses between 80 and 120 such solutions. Despite this, the industry continues to experience frequent data breaches. The majority of the attacks leverage well-known attack vectors that are simply left unaddressed by security operators, who typically have a threat detection tool deployed that successfully detects the attack but fails to take action due to an implementation error or misconfiguration.

"History is full of stories of cases where an alert was set off somewhere, but nobody saw or heard it until the breach was investigated after the disaster had already happened," Mumcuoglu said. "Our system enables proper management of cyber solutions precisely at the fail points. Most organizations are busy buying products but don't have the people or the know-how to properly configure all of them. At such scales, it is too difficult for humans to manage things because the systems are simply too big and complex. We provide the automation that will optimize all of a company's protective assets."

"There is an established security industry trend of applying AI to automate threat detection and response, so we were surprised to learn how manual and ineffective basic SOC engineering processes remain," said Itzik Parnafes, General Partner of Battery Ventures. "Michael and Yair have hit on a major pain point by introducing this new platform to automate these core threat engineering tasks, which will have a major impact on improving enterprise security posture."

"When we had the opportunity to once again work with a brilliant cyber entrepreneur like Michael, we pounced on it. Michael is a man of vision with a proven record of building and commercializing successful products," said Arik Kleinstein, Founding Partner of Glilot Capital.