University of Haifa and TikTok address Holocaust awareness during International Holocaust Remembrance Day
The event featured students from the MA Program in Holocaust Studies, addressing the lack of knowledge about the Holocaust among today's youth
The University of Haifa and social media platform TikTok co-hosted a virtual event this week aiming to raise awareness surrounding the lack of basic knowledge that young people have about the Holocaust - one of the most atrocious acts in human history.

The event, which was called 'Ask Me Anything: Holocaust' featured a Question and Answer session with four graduates from the University of Haifa's Weiss-Livnat International MA Program in Holocaust Studies, taking place at The Strochlitz Institute for Holocaust Research.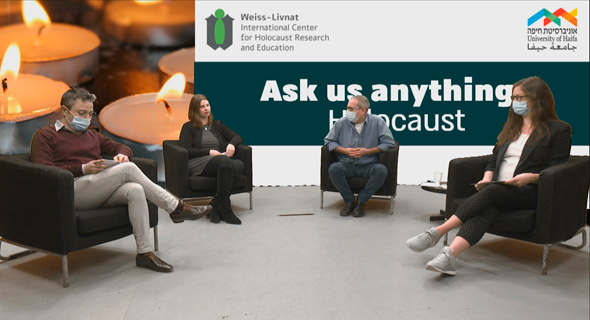 'The Q&A session with four graduates from the University of Haifa. Photo: University of Haifa

"In recent years, we have seen awareness and knowledge of the Holocaust and its lessons beginning to dwindle," said President of the University of Haifa, Prof. Ron Robin. "It is our duty as a research university to do everything in our power to preserve the memory of the Holocaust and constantly add new knowledge about one of the darkest periods in history for humankind. We, therefore, believe it is our duty to engage with youth from around the world on the platforms they can be found, to ensure that the memory of the Holocaust will never be forgotten."

Lack of basic knowledge surrounding the Holocaust, often going as far as flatly denying its existence, is a stubborn and worrying trend among social media platforms today. TikTok, whose 16-24 age group makes up 41% of its entire userbase, has seen many anti-Semitic, racist, and offensive content that denies the events of the Holocaust.

According to the US Millennial Holocaust Knowledge and Awareness Survey, 63% of American millennials and Gen Zs do not know 6 million Jews were murdered in the Holocaust. Thirty-six percent believe that the number is closer to 2 million. Perhaps most shocking: 48% cannot name a single concentration camp or ghetto from the Holocaust era, and 11% believe Jews actually caused the Holocaust.

This year, Facebook partnered with Yad Vashem, the World Holocaust Remembrance Center located in Israel, to promote awareness surrounding events of the 20th century by launching IRemember Wall to help commemorate and remember the victims and their families.