"I'm betting my life on it": Yoni Bloch's vision for the future of video
With eko, viewers can experience choice-driven entertainment where their decisions directly impact the narrative of the stories they watch
Media and technology company eko has developed a platform that helps brands and content creators produce what it calls choice-driven video entertainment, something that its founders believe will be the future of consumption for eager-eyed content consumers.

"There is a way to humanize the whole experience by getting to know you by your choices," explained its founder and CEO, Israeli singer and performer Yoni Bloch. "That's the way we look at it."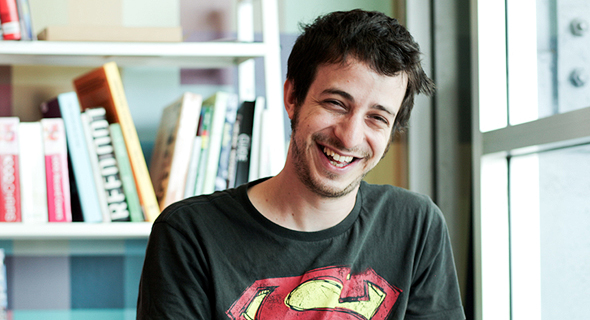 eko Founder and CEO Yoni Bloch. Photo: Alon Ben Ari

eko partners with publishers like Buzzfeed and companies as large as Walmart to help them create interactive videos that are guided by the decisions of each user. For example, users who watch Buzzfeed cooking videos can select diet-specific options, or travel videos can guide you through cities depending on what type of sites you want to see at that moment. Partnered with AI, the video then learns the habits and interests of users to tailor more specific experiences. Since its founding in 2011, eko has raised a total of $62.5 million, as well as a $250 million deal with Walmart.

"As you can imagine we are seeing the pandemic keeping people at home, and so video and gaming have been growing fast and choice-driven entertainment is, you can say, a combination of both," Bloch explained. "Because making a choice is usually something that happens in gaming, opposed to video."

For content creators online all vying for the attention of people's eyes, the possibilities are endless. "Creators need to change how they're thinking about video," explained Bloch. "Interactivity in Instagram, Snapchat, or TikTok is about skipping. So people became good at telling quick stories… every time someone makes a choice, their patience or their attention resets and it like they're starting to watch a new video."

Perhaps the most famous example of long-form choice-driven entertainment is Netflix's episode of Black Mirror, Bandersnatch. While it stands alone on the streaming platform's library, eko believes the medium, and its technology, has unparalleled advantages for keeping viewers tuned in. "When you feel you're part of it, you're much more bought in. It doesn't matter if it's education, cooking, crafts, storytelling, comedy, you have a stake in the game," he said.

Today, Netflix has a unique ability to take a gamble on long-form choice-driven entertainment that relies on data and technology as well as the art of storytelling itself. Hollywood, on the other hand, is not likely to make such a dive anytime soon. According to Bloch, "Hollywood is usually last to move with how the world changes. You can see it now with theaters and Covid-19 and the denial of their demise. Hollywood is a weird place. It's the largest place that's run by something a lot of people see as art, like the art of storytelling and filmmaking, but in a world driven by money."

Private companies can certainly lean into eko to raise engagement among users, as well as venues that are pivoting online due to the pandemic. Last year, eko's platform was adopted by The Festigal, an annual music festival in Israel that Bloch describes as "all of Broadway and the West End in one big huge show." It was held online, yet the technology helped families enjoy a unique experience during the performances.

"For the final event, which was the closest thing to the replication of the show itself, and they made two versions," explained Bloch. "One was interactive and one was linear. They let the parents choose and the majority chose the interactive version. But everyone who chose the interactive version actually got to the end."

In the future, Bloch believes that children and audiences will come to expect interactive video as part of their viewing experience. "We have interesting things happening in pretty much every category imaginable." Citing tourism, education, sales enablement, and even HR, Bloch is hoping video will one day be truly transformed.

"I'm betting my life on it… let's say that," he said.