HR Post Covid
In Covid-19, Intuit Israel asks: "how can we preserve and develop our culture?"
As part of CTech's HR Post Covid series, the company's General Manager and VP Security R&D discusses some of the ways culture can be fostered and maintained
Due to the pandemic, companies like Intuit Israel still cannot interact the way they used to, be it in the offices or in their spare time. This poses a challenge for some of the 50 new employees the company has welcomed in the past 11 months.

"As for new employees, it is more difficult for them to experience our culture to the fullest extent," explained Gene Golovinsky, General Manager of Intuit Israel and VP Security R&D. "For me, this is one of the major concerns our entire leadership team must address - how to preserve and develop our culture."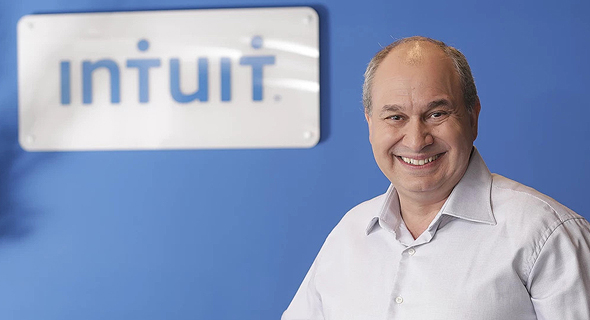 Gene Golovinsky, General Manager of Intuit Israel and VP Security R&D. Photo: Eyal Marilus

According to Golovinsky, the company has low attrition, so the "word of mouth" from its veterans carries a lot of weight with the latest additions to its family. Golovinsky joined CTech to share how the company manages to keep some of its energy alive when working from home.

Company Name: Intuit Israel

Site Leader: Gene Golovinsky, Intuit Israel General Manager and VP Security R&D

Field of Activity:

Intuit's mission is to 'Power Prosperity Around the World'. Its global products and platforms, including TurboTax, QuickBooks, Mint, and Turbo, are designed to empower consumers, self-employed, and small businesses to improve their financial lives, finding them more money with the least amount of work while giving them complete confidence in their actions and decisions. Intuit's innovative ecosystem of financial management solutions serves partners and 50 million customers worldwide, unleashing the power of many for the prosperity of one.

Number of employees/location:

Our site in Israel consists of approximately 250 (and growing) talented professionals. We employ over 10,000 individuals worldwide, housing cross-functional teams that work across several of our well-known products. On top of our global headquarters, which are located in the heart of Silicon Valley, we operate in 19 cities within nine countries across the globe.

Professional background of Leader:

Gene is the General Manager of Intuit Israel and VP Security R&D. A highly accomplished technology executive with a diverse background ranging from large ISV to startups, Gene was crucial to Intuit's acquisition of Israeli cybersecurity startup Porticor and has been leading the development center for the last couple of years. Prior to joining Intuit, Gene served as the VP R&D at Limelight Networks, Chief Architect and Director of Qualys, VP R&D for AlertLogic, and held various technology leadership positions at BMC Software.

On a scale of 1-10, how much did the coronavirus pandemic disrupt operations at the company?

Intuit's financial software products serve (amongst others) small businesses and the self-employed around the globe. Especially throughout Covid-19, running or starting a business can feel like a free fall with no safety net. But our mission to help 'power prosperity around the world' kept our employees going strong. We are dedicated to providing the tools, skills, and insights that empower people to take control of their financial lives.

In March 2020 the company switched from regular office work to a virtual/work-from-home environment practically overnight. Intuit was one of the first companies who declared work-from-home mode across all our locations worldwide before the government decided to close our offices.

Across the world and in Israel, it took a few weeks for the teams to get organized, understand the new limitations, and consequently, discover the advantages as well. By late Spring, we were in full swing - after continuously measuring productivity, we discovered that not only did our productivity not decline, but quite the contrary occurred - some areas even presented clear productivity increase.

I would say that throughout the course of (almost) a year, we did not experience meaningful disruption, which is completely to the credit of our teams. From HR to R&D, all teams faced challenges and exhibited incredible creativity and resilience in the face of such unprecedented adversity.

What interesting technological tools do you use in employee management/recruitment?

Our top priority is protecting the health and safety of our employees while attending to the needs of our 50 million customers worldwide. We were already pretty digitized in our employee management and recruitment processes pre-Covid. Intuit has a unique recruitment and candidate management process called A4A (Assessing-for-Awesome). Our A4A process includes four key elements, including: Assessors with diverse backgrounds and departments to ensure we avoid groupthink; Key skills and values, where we review candidate suitability for the team and organization; Craft demo, where candidates demonstrate their skills; and immediate decisions, which ensure feedback and closure for candidates.

Before the pandemic, the process included inviting candidates to our site. That way, they could experience our culture and unique office first-hand and immerse themselves into our teams' environment. Inevitably, we had to adapt our A4A process to Zoom. Sometimes it's even easier as we always like to have at least one global member in these meetings and this way everyone is on Zoom and not only the candidate or the panelist. Creating the same experience is not merely possible, but we are trying. We send candidates who sign on a small welcome gift home. Other little things that help are Zoom backgrounds demonstrating photos of our site, as well as virtual office tours that exhibit special spaces (such as our music room, quiet corners, creative art featured, and so on).

What positive and/or negative impact did the outbreak have on the human capital of the company?

On top of everything going on, there's no denying that Zoom fatigue is real and can take its toll. Keeping spirits high despite the circumstances was a matter of great issue to us, which is why we made sure to uplift our employees' mindsets in whatever way possible. The company took on several important measures to address this:
Days off: We immediately provided an additional 10 paid days off to help take care of family members during Covid-19.

Recharge days: We provided six Recharge Days. This was a true game-changer as it allowed everyone to disconnect and be present in their home-life.
Work from home benefits: We did everything we could to make our employees' home environment as productive as possible. We provided them with a spend amount for everything they needed from elevating desks, chairs, and other peripheral equipment. We reimbursed WiFi expenses and continued the monthly 10bis (meal plan card) and travel expenses. We also offered generous reimbursement for childcare and home cleaning services.
Physical and mental health: We introduced a new service enabling remote doctor consultation visits, offered confidential counseling through licensed mental health providers, offered flu shots as part of our bi-annual medical check-ups, arranged for guest speakers to provide health tips suitable exactly for a time such as this (from working out and cooking to dietary and mental health), and hosted fun events for sole entertainment purposes.
Small business aid: Our employees were beyond proud to participate in an Intuit financed GoFundMe for an initiative to help small businesses raise money and overcome the challenges caused by Covid-19. This was, of course, a global effort but this specific initiative raised morale and spirits also among our local employees, as they got to play an instrumental part in supporting our own nation. Our employees were proud to take action with Intuit's promise to double the sum raised by them, which resulted in a substantial amount donated to small local businesses and Magen David Adom, Israel's national emergency medical, disaster, ambulance, and blood bank service.
Supported internal resource groups: Offered a beginner's course for spoken Arabic in collaboration with the Madrasa organization, where participants took part in a unique opportunity to acquire skills and have great fun while they're at it.

What are the two major challenges you are coping with these days?

About two years ago, Intuit announced our 5 Big Bets strategy, which is propelling us to the next level. We are in the process of digitizing the service industry while targeting to become an AI-driven expert platform, and the pandemic only accelerated these processes. Since our Global Development Center is a major part of our company's strategy, we are in rapid growth mode. Finding awesome candidates and creating a fantastic environment for them to do the best work of their lives is definitely challenging, but then all the more rewarding.

Due to the pandemic, we, unfortunately, cannot interact the way we used to, be it in the Intuit offices or during our spare time (which we enjoyed spending together, as well). As for new employees, it is more difficult for them to experience our culture to the fullest extent. For me, this is one of the major concerns our entire leadership team must address - how to preserve and develop our culture. We are very fortunate to have low attrition, so the "word of mouth" from Intuit veterans carries a lot of weight with the latest additions to our family.

Having said that, we do have regular virtual new employee orientation sessions, giving new team members a chance to get to know their teammates and team leaders. We also engage new hires with information regarding the major initiatives we are driving on behalf of our customers and encourage them to join our ERGs (Employee Resource Groups). The ERGs aim at promoting involvement within specific social groups, and our site includes the Pride, Women, and Arab groups.

Additionally, our site has a very specific and unique identity at Intuit: "Trust, Data, Deep Insight." The work we do in Israel is foundational for Intuit teams across the company worldwide, which is a lot of responsibility. This factor on its own is a huge reason why our employees are proud of the work they do at Intuit Israel. It really makes a difference in the lives of our 50 million customers.

All in all, balancing rapid growth, protecting and developing our unique culture, and continuing to develop our identity is our very worthy set of challenges and noble goals.

Are you actively recruiting? If so, what is the process and where can the applicants find you?

Yes and for many roles. We have many remarkable opportunities right now. Intuit is recruiting, just as it has throughout this entire period. In light of the fact that the company has transitioned to a 100% work from home basis until further notice, our processes have gone full virtual as well. Throughout the past 11 months, we have hired over 50 new employees who have successfully passed the interview process and started their employment at our company. There were hurdles along the way for sure, such as learning how to welcome new employees from a distance, but we managed to refine the process accordingly.

The list of exciting job opportunities can be found on our Career site, LinkedIn or Facebook!

Which changes forced upon you by the circumstances will stay in place after Covid-19 is over, and which are you most eager to revert back to normal?

Learning that we can be very productive virtually certainly opened up new possibilities. On the other end, we deeply sympathize with those who crave real human interaction in the office environment. As a result, we are considering a hybrid model that would integrate the two approaches. This way, teams will have the power and the flexibility to decide when to work from the office and when to stay virtual. The idea is to empower our employees to maximize the benefits of both worlds: spare the traffic jams, yet actively collaborate in physical proximity in the comfort of our offices.