Israel's 2021 Cyber landscape: Which sector will the new unicorns emerge from?
120 companies from 14 industry sectors made it into Glilot Capital Partners and IVC's Israeli Cybersecurity Technology Landscape map
This article first appeared on February 9, 2021 and is being reshared as part of CTech's Top 10 stories of 2021.
More than 120 large private companies managed to make it on to the "Israeli Cybersecurity Technology Landscape 2021" map compiled by venture capital fund Glilot Capital Partners and tech market research and analysis firm IVC. The map is divided into 14 sub-sectors including: Cloud Security, Web Security, Email Security, IoT and Industrial Control Systems, Blockchain Security, Privacy & Data Protection, Security Operations & Threat Intelligence, Application Security, Identity & Access Management, Workload Protection, and others.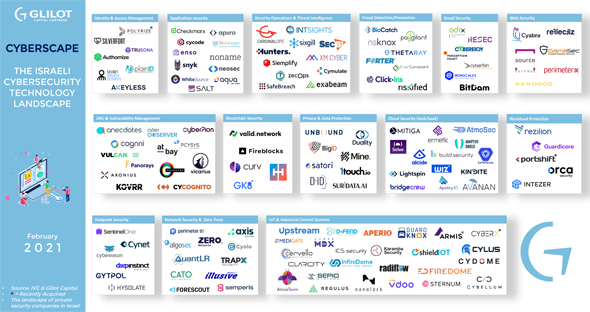 Glilot Capital and IVC's Israeli Cybersecurity Technology Landscape 2021

"2020 was an insane year: at the start of it, there were concerns that the cyber sector would be harmed by the Covid-19 pandemic, because after all, these are products that are sold to enterprises and when enterprises are hurting, no matter how good your product is, it'll be hard to sell. And indeed the second quarter was challenging, but very quickly it emerged that the cyber industry was doing well across the board and starting from the second half of the year, the entire sector received a major boost," Kobi Samboursky, founder and Managing Partner at Glilot Capital Partners said in an interview with CTech. He described Israel as one of the world's foremost cyber superpowers, home to companies that are pioneers in their fields. The Israeli cyber sector experienced a more than 70% increase in investments throughout the coronavirus-plagued 2020 as a result of a spike in demand for data protection systems due to an uptick in cyberattacks. "We estimate that over the coming year, some of the companies that are on this list will become unicorns while others climb to become leading companies in their field," he said.

According to Samboursky, two additional sub-sectors that are worth keeping an eye on because of their rapid growth in the past two or three years are Cyber Services and SME (small and medium-sized enterprises).

"Since cyber is such a complex field, it requires a service element because there is a significant shortage in personnel that is trained to carry out the required tasks. In some cases, even large American companies don't employ security teams. For that reason, the industry is creating 'cyber-service' models for cases when merely purchasing a protective product is not enough and what's needed is a scalable service model that is suitable for a growing range of organizations," he said. He noted that in terms of market size, the product field and the services field are roughly the same, with each representing around $27 billion a year, but that for now there is less innovation in the services field and that's where he identifies an opportunity for growth.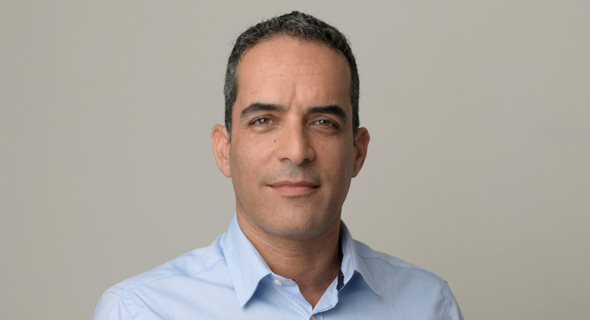 Kobi Samboursky, founder and Managing Partner at Glilot Capital Partners. Photo: Ben Yitzhaki

When it comes to SMEs, Samboursky pointed out that though cyber had integrated well into the enterprise sector over the past decade, where it offers a wide range of solutions, but when it comes to smaller companies, often they don't have security teams, but instead rely on their IT teams for security tasks. At the same time, medium-sized companies have become popular targets for hackers and the defensive tools that have been developed in the last six or seven years skipped over their unique needs. For that reason, in his opinion, the next few years will see more companies emerging with solutions tailored to the SME sector.

Glilot Capital Partner was founded in 2011 by Samboursky and Arik Kleinstein, who were later joined by Nofar Amikam and Lior Litwak. The fund manages $500 million and recently launched Glilot+, a $170 million growth fund focused on software and cyber companies. Sambourky stressed that even though cloud security has been part of the industry for a decade already, the field is still in its early days with everyone trying to guess in which direction it is headed. Nowadays, he said, people have a better idea. Not only the investors but the entrepreneurs too. "The companies realized the rising significance of cyber after everyone shifted to work from home and became exposed to new challenges. The transition to the cloud is not a brand new trend, but traditional companies that may have said 'yes, but maybe in a couple of years,' were suddenly forced into it and now require cyber solutions. The Cloud Security sector has seen change from two different directions: both in terms of computational infrastructure, with the cloud replacing data centers; and in terms of software as a service, which essentially replaces the organizational IT and ads developers, who are a new audience that I'm not used to working with, into the mix," he concluded.