Armis raises $125 million from new strategic partner Brookfield Technology Partners
The new investment comes a year after the Israeli company was sold to Insight Partners and Capital G
A year after its acquisition, Israel-based IoT security company Armis Inc. has raised $125 million at a $2 billion valuation. Armis was acquired by New York-based venture capital and private equity firm Insight Partners and Google's investment fund Capital G in January 2020. On Tuesday, the company announced it had entered into a definitive agreement to lead a scaled growth equity investment from Brookfield Technology Partners, the growth investing arm of Brookfield Asset Management with participation from existing investors including Insight Partners, CapitalG, Alphabet's independent growth fund and Georgian. Brookfield Asset Management will bring Armis Device Security Platform to Brookfield-owned businesses and operating industries in more than 30 countries worldwide.

The new investment from Brookfield Technology Partners and Georgian will fund an exciting backlog of new product development and expansion of the marketing and sales teams. To date, Armis has raised $300 million in total financing and is valued at $2 billion. Insight Partners will remain the majority owner, and Armis will continue to operate independently and will be fully managed by its two co-founders, Yevgeny Dibrov, CEO, and Nadir Izrael, CTO, and the executive team.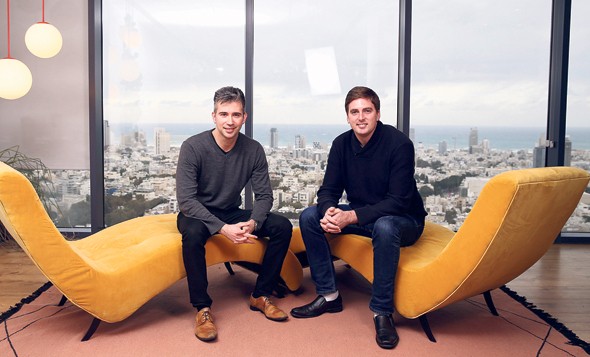 Armis co-founders Nadir Izrael (right) and Yevgeny Dibrov. Photo: Orel Cohen

"Brookfield became our client and they manage hundreds of billions of dollars in assets. They came to the conclusion that we offered them the best solution and said they wanted to spread our platform across all their holdings," Yevgeny Dibrov, co-founder and CEO at Armis told Calcalist.

"We weren't looking to raise capital and we see a great strategic benefit in their global spread. More important than the amount we raised and the valuation we reached, is the business potential of the partnership. We were acquired by venture capital funds but retained substantial growth out of the desire to create a substantial company. We are developing more products in order to gain more market presence. This was an opportunity with a client, an investor, and a strategy for the company. Insight acquired us as an independent company on its way to an IPO. Insight holds a massive share of the company and wants to see us grow to become a giant organization," Nadir Izrael, Armis's co-founder and CTO told Calcalist. "We are a growth company. Going public is a means and not an end. There are advantages to being a private company and we will remain one for as long as possible. Our goal is to become a security industry giant and the collaboration with Brookfield is a win-win on the path to a massive IPO."

"We invested a lot in producing the platform and developing new markets. The company has grown well and this investment is a testament to our growth in sales and revenues, which are reflected in us doubling our valuation since the previous deal," Dibrov said. "We experienced a 100% increase in sales. We are galloping ahead as quickly as possible and if there are additional strategic opportunities, we won't reject them."

"Armis is an industry leader that offers the most comprehensive and effective security solutions for agentless devices," said Josh Raffaelli, Managing Partner, Brookfield Technology Partners. "Brookfield underwent a thorough yearlong industry evaluation, and it was clear that Armis was the only platform able to serve and scale globally across the vast industries in which we operate whether it be infrastructure, real estate, renewables, healthcare or telecom. We are very excited at the opportunity to partner with Armis at this juncture in their growth trajectory."

According to IDC, there will be more than 40 billion connected devices by 2025. Many of these devices, often referred to as the Enterprise of Things devices, Internet of Medical Things (IoMT), Manufacturing/OT, the Industrial Internet of Things (IIoT), or just the Internet of Things (IoT), have little to no security defense and cannot be protected in the same manner as traditional devices, posing unprecedented risks for organizations of all size and scale.

Armis is uniquely positioned to solve this unmet security need with its agentless, enterprise-class device security platform designed to address the new threat landscape of unmanaged and IoT devices. Despite the impact of Covid-19, Armis' dedication to healthcare systems and continued rapid expansion into OT and IT drove excessive revenue and customer growth. Over the past couple of years, revenue has grown more than 750%, while the number of customers has grown over 425%. As a result, Armis was recognized as a leader in connected medical device security by Forrester, a leader in OT Security by ISG, as well as the 2021 IoT Security Company of the Year by IoT Breakthrough Awards, and named in the Gartner 2020 Market Guide for Medical Device Security Solutions. Armis also launched its channel partner program less than one year ago and already has 130 active partners. In support of the rapid growth experienced, Armis grew its team to over 350 personnel this year, including the appointment of Brian Gumbel as Chief Revenue Officer and Jonathan Carr as Chief Financial Officer.

Fortune 100 and Global 2000 enterprises across all verticals such as Mondelēz, Sysco, Fresenius, Home Depot, Oracle, and DocuSign rely on Armis to help protect their businesses.

Brookfield Asset Management is a leading global alternative asset manager with over $575 billion in assets under management. The company has more than a 120-year history of owning and operating assets with a focus on real estate, renewable power, infrastructure, and private equity.