PerimeterX raises $57 million for expansion into new verticals
"It gives us the runway to extend our market reach beyond our core into new industries such as financial services," says CEO
Information security company PerimeterX Inc. announced Tuesday that it has secured $57 million in a financing round led by global asset management firm AllianceBernstein. The current round, the company's fourth round to date, brings its total amount of capital raised to $144 million. Other participating funds include first-time investors Stereo Capital, JS Capital, and Golden Arc Capital, and existing investors Adams Street Partners, Canaan Partners, DTCP, Scale Venture Partners, and Vertex Ventures U.S. The enterprise value at which the capital was raised, was not disclosed

In 2019, PerimeterX raised $43 million in a round led by Scale Venture Partners. The new capital will be used to expand into new geographies and vertical markets.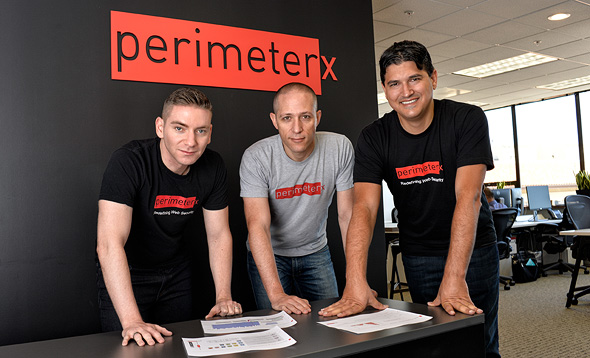 PerimeterX co-founders Ophir Ashkenazi (left), Ido Safruti and Omri Iluz. Photo: PR

PerimeterX was founded in 2014 by CEO Omri Iluz, CTO Ido Safruti, and CFO Ophir Ashkenazi. The company is headquartered in San Mateo, California and its development center is in Israel. It employs 200 people in both locations.

"This latest round of growth financing is a testament to the uniqueness of our vision in the industry. It gives us the runway to extend our market reach beyond our core retail e-commerce vertical into new industries where we see strong uptake such as financial services. And it enables us to further develop geographies where we have a foothold including EMEA and APAC," Iluz said.

According to a statement by the company, Its products protected over $100 billion in e-commerce revenue in 2020 and processed over 2 billion login requests per day. During Cyber 5, the holiday shopping period from Thanksgiving to Cyber Monday, the company said it protected over $12 billion in e-commerce revenue and processed a record 93 billion requests.

AllianceBernstein is a global investment management firm that manages over $10 billion in capital available for investment and has the capacity to invest up to $200 million of credit in a single company while also making sizable equity co-investments.