Massivit 3D Printing Technologies completes TASE IPO, raises $50 million
The company provides 3D printing systems for the automotive, marine, rail, architecture, and entertainment industries
Israeli provider of large-volume 3D printing systems, Massivit 3D, has completed its initial public offering (IPO) on the Tel Aviv Stock Exchange (TASE), raising NIS 169 million ($50 million). As part of the offer to investors, the company has received a demand of approximately NIS 249 million ($75 million), and it brings it to a post-money valuation of around NIS 660 million ($198 million).

"We are thrilled to join the TASE and are delighted with the significant trust we have gained from the capital market that has led to the company's successful IPO," said Massivit 3D's CEO, Erez Zimerman. "The demand we have witnessed as well as the investments by institutional entities testify to the market's substantial evaluation for the solution that Massivit 3D provides and the technological value that we bring to the market."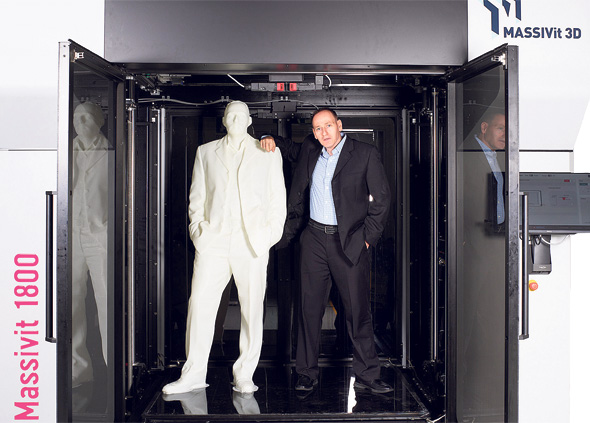 Massivit 3D's CEO, Erez Zimerman. Photo: Massivit

Massivit 3D aims to overcome three primary barriers regarding 3D printing: production speed, size, and versatility of industrial materials. According to the company, it has a portfolio of 3D printing systems made up of large-volume hardware, printing materials, and software based on algorithms. Massivit 3D's technology has been leveraged across 40 countries and is operating in markets expected to reach around $73 billion by 2025.

"We are also confident that our current technological developments will transform the manufacturing market as we know it, enabling many industries to expedite their production processes and lead times" added Gershon Miller, Massivit 3D's Chief Innovation Officer and co-founder. "As part of the company's plan for growth, the funds raised will be leveraged to continue innovating vital and disruptive technology that address pertinent market gaps."

Massivit 3D's IPO was accompanied by Poalim IBI and attorneys Efrat Efrati Galili Confino & Co. The company was founded in 2013 by Miller, Igor Yakubov, and Moshe Uzan and provides 3D printing systems for automotive, marine, rail, architecture, and entertainment industries.