HR Post Covid
Amid the pandemic, Fetcherr's HR Manager built her role and shaped her team
Even though the AI company has always been entirely remote, Fetcherr joins CTech to consider what impact Covid-19 had on society
"Most of our employees liked the fact that they work from home so that they can combine their private lives with work and balance family life with work," explained Shani Or, Fetcherr's first HR leader. "Therefore the impact of Covid-19 on our human capital has been positive. During the lockdown, we called through Zoom and Slack and of course, we met for Happy Hours."

Fetcher has always been remote - its 33 employees are spread across Israel and Poland - and yet caring for its employees during lockdowns has been essential during the pandemic. Or has joined CTech to share how she has shaped her role in unprecedented times to care for dozens of people who may be struggling out of the office.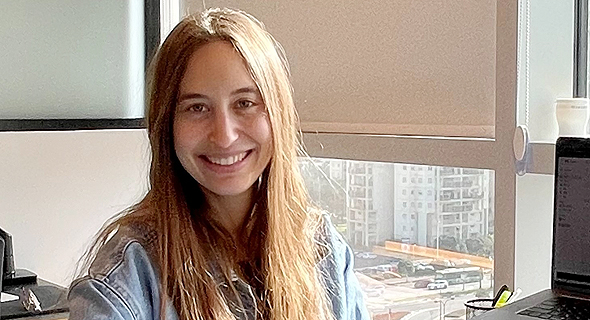 Fetcherr's Shani Or. Photo: Yuval Aharon

Company Name: Fetcherr

HR Leader: Shani Or

Field of Activity:

We are an AI company in our essence. We developed a system based on algorithmic trading techniques that can predict demand for any product or service. Our technology involves innovative deep learning concepts to continuously predict and optimize the price of a product or service, and accurately predict the reaction to Competitor Behavior.

Number of employees/location:

Fetcherr is a fully remote company. We have 33 employees, most of them located in Poland in an R&D center. Our headquarters are located in Netanya, Israel.

Professional background of HR Manager:

I started my career in the largest shopping channel in Israel.

I was responsible for recruiting all divisions of the company, leading new processes in the organization, building a new training system, and taking care of welfare and individuals.

At one point I felt I had exhausted myself in the role and had no more room to grow. I wanted to do something different, another challenge, and engage in a field I had never known before - technological recruitment around the world. I have worked at Fetcherr for four months and I am responsible for recruitment, office management, and welfare. I am the first to assume the position of HR Leader at Fetcherr and it's my responsibility, and privilege, to build the HR activities, processes, and team to support the company's growth. I feel like I'm building the role and therefore have the opportunity to bring my personality and myself into it. I build relationships in order to employ people at a very high-quality level, I initiate communication with the recruitment companies and do the first screening.

On a scale of 1-10, how much did the coronavirus pandemic disrupt operations at the company?

7/10, because we work globally and remotely from the beginning, we felt the distraction less. Covid-19 increased the need for and the interest in our product. On the other hand, I think that without the virus our recruitment process with candidates from Israel would have been more efficient. We could also have visited our employees abroad and given them the feeling they are really part of our company. I think there is something cold and distant about working through screens. But the fact we started out as a fully remote company, helped us. The ideal is a hybrid model, i.e., a recruitment process that will have both physical interactions and virtual ones.

On the client-side, Covid-19 was more challenging due to the fact people prefer to close deals face-to-face. It simply feels different. People feel safer when they can talk directly and in person with the people who created the company.

What interesting technological tools do you use in employee management/recruitment?

We are a company under the radar. We engage in complicated and sensitive technology.

Therefore, we don't use the usual pipelines. We work with specific headhunters that can help us to find the exact profiles.

We create interest and curiosity through distributing PR in places where the target audience is located. In addition, we use a variety of existing technologies to create a sense of belonging, like Zoom, Slack.

What positive and/or negative impact did the outbreak have on the human capital of the company?

We consider every employee a central part of the company. All employees know at every point in time what stage the company is at and what the future plans are. We started building our team a year ago, so we supported them all the way and they built the company with us hand in hand - something that helped them feel very meaningful. We have a Happy Hour every two weeks, which helps to motivate the team and offers a fun break.

Covid-19 has adapted to our values ​​as a society. We believe that anyone can work from where they feel comfortable and where they feel much more productive. Most of our employees liked the fact that they are able to work from home so that they can combine their private lives with work and balance family life with work. Therefore the impact of Covid-19 on our human capital has been positive. During the lockdown, we called through Zoom and Slack and of course, we met during the Happy Hours.

What are the two major challenges you are coping with these days?

The first challenge is virtual well-being. Most people, after a day of work in front of the computer, prefer to do fun activities, not remain in front of the computer.

It isn't easy to find good activities through Zoom. In addition, it isn't easy to create deep connections between people through Zoom.

The second challenge is interviewing through Zoom. I much prefer face-to-face interviews, in which I can clearly see and recognize the candidate's body language. Through Zoom, it is easier for candidates to hide their body language.

Are you actively recruiting? If so, what is the process and where can the applicants find you?

Yes. I get the CVs from our headhunters and if they suit us, we begin the process. The first stage is an HR interview, then, depending on the position, technical tests, and a tech interview.

Candidates can find us on our website.

Which changes forced upon you by the circumstances will stay in place after Covid-19 is over, and which are you most eager to revert back to normal?

I think that part of the recruitment process will stay virtual. This way, we can save precious time for both sides and can understand early on whether the candidate suits us, without having to bring them in physically. Also, in welfare, some of the activities will remain on Zoom so we can share the experience with our consultants from abroad and help them feel part of the company.