Interview
The world's most prolific creative designer these days is a made-in-Israel robot
Using a machine learning algorithm, Tailor Brands is able to provide branding services to millions of microbusinesses and solopreneurs
What do you get when you combine a technologist, a creative designer, and a marketing pro? In the case of one Israeli startup, Tailor Brands, you get a product with millions of users that is on its way to becoming the Wix of the branding world.

Tailor Brands was founded on the assumption that every company needs a logo, but not everyone can afford the cost of retaining a professional design company or hire a creative designer to do it at costs that can reach tens of thousands of dollars. So Yali Saar, Tom Lahat, and Nadav Shatz, three Israelis working and studying in New York, put their heads together and founded a company that developed an AI algorithm capable of tailoring a logo for any user, proving along the way that with a few guiding questions and feedback from a human, even a robot can mimic creativity.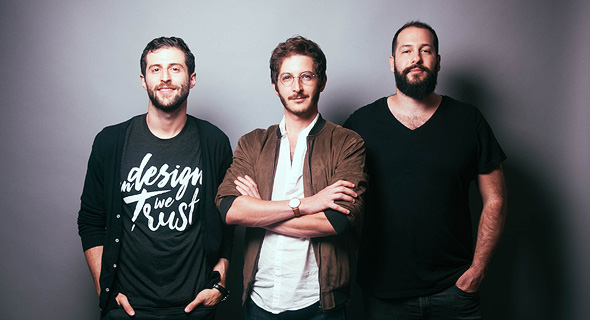 Tailor Brands co-founders Tom Lahat (left), Yali Saar, and Nadav Shatz. Photo: PR
"The idea was bizarre, even to us. Creative automation is a challenge. The idea that we would teach the algorithm how to design was well outside the box," Yali Saar, Tailor Brands CEO said in an interview with CTech. "We started by asking Tom (the company's Chief Design Officer) to create a logo and a website," he recalled.
"We then built a decision tree by breaking down every step of the creative process, which Nadav was then able to turn into a machine learning algorithm that becomes better with every use," Saar said, recalling the company's earliest days operating out of a Brooklyn apartment with the subway line running outside their window.
But investors were quick to catch on to the potential with a $1.1 million seed round led by Tal Barnoach's Disruptive Technologies Venture Capital and Mangrove Capital Partners, and Pitango Venture Capital coming on to lead a $4 million series A round in 2016 and a $15.5 million series B in 2018, respectively.
In between rounds, the trio decided to return to Israel and establish their operations in Tel Aviv, where they currently employ 70 people and are looking to double their headcount.
Creating a logo using the Tailor Brand platform is incredibly simple. All you need is a name and a general concept and the algorithm does the rest. Through a series of guiding questions, the platform asks you to insert your brand's name and optional tagline, select an icon or central theme, choose from a variety of fonts, styles, colors, and textures and within minutes, it produces several proposals, which the user can then fine-tune until achieving the desired outcome. The initial process is offered for free, with additional optional features, such as designing a website based on the logo design, finding an available domain for it, creating branded designs for social media accounts, and branded company merchandise, costing extra.
Saar brushed aside the notion that by substituting the work done by creative departments with an algorithm, Tailor Brands was taking people's jobs. "Has Wix created more or fewer jobs? Did the digital camera result in more or fewer people becoming photographers?" he challenged. "New technologies create more jobs than they eliminate."
Tailor Brands doesn't aspire to replace creative designers or high-end branding firms, the cost of which can be prohibitive, what it does is offer a solution for millions of small enterprises, particularly microbusinesses and solopreneurs, who require a logo and basic brand management capabilities to kick start their business. "For every business that can afford the services, there are dozens if not hundreds who can't. The idea behind Tailor Brands was to democratize the design industry by offering creativity as a service," Saar explained.
Fortunately for the company, Covid-19 has resulted in a flood of such businesses, many of them in the booming e-commerce sector. Tailor Brands is currently onboarding 700,000 new users a month, reaching a staggering 25,000,000 users across 120 states and territories around the world, and positioning itself as the largest platform of its kind.
"2020 was a crazy year. We grew by nearly 100% and anticipate an even larger leap in 2021," said Saar. Like Wix and Fiverr, two other well-known Israeli companies, Tailor Brands growth has accelerated during the pandemic. "Unemployment is rising. People are looking for alternative income. More than eight million new businesses joined the platform and they are all businesses that didn't exist before".