Employer Branding
How did EX.CO reinvent itself during Covid-19?
EX.CO thought it would be hard enough to attract top talent after a rebrand. Then came the pandemic, too
It's hard enough to attract talent to your company in an ecosystem full of noteworthy companies. Throw in a name change and the pandemic and you've got yourself a real challenge.

"Changing the name of our company definitely posed an employer branding challenge, considering our previous brand (Playbuzz) was well known within the local tech community," said Shachar Orren, CMO at EX.CO. The company had experienced an entire rebranding at the end of 2019 - just before Covid-19 stopped the world in its tracks.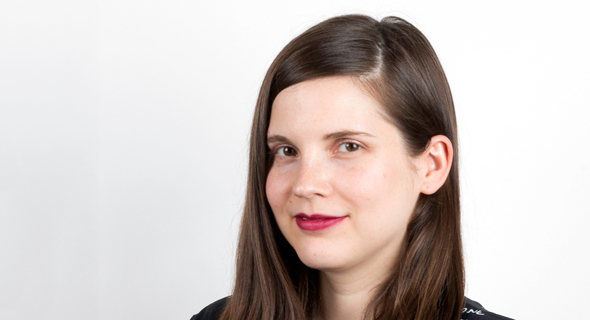 CMO at EX.CO, Shachar Orren. EX.CO. Photo: Caroline Sino

"We had to find a clever way to make potential employees familiar with our new EX.CO brand and its values and advantages," she added.

EX.CO employed a collection of strategies to make sure it still appeared attractive to all the talented pool of professionals it wanted to employ. The company joined CTech for its Employer Branding series to explore some of the ways it overcame challenges in its early days.

General intro:

EX.CO was founded in 2012 with the belief that content should make an impact. With over 250 million engagements powered by EX.CO per month in over 40 languages, we empower leading publishers and businesses around the world to engage their audiences with content experiences that deliver meaningful results.

Company details:

EX.CO was founded eight years ago, and today has 100 employees in different cities worldwide - mainly New York City, London, Tel Aviv, and Lviv.

Backed by investors including The Walt Disney Company, Saban Ventures, Viola Group, 83North and Firstime, EX.CO is the leading technology used by businesses and publishers worldwide to drive results through impactful content. The EX.CO platform enables brands and publishers to deliver interactive content and dynamic video that increase engagement, ad revenues, conversion rates and provide valuable audience insights.

In the past eight years, our user-friendly, self serve platform has served big brands like Pfizer, McDonald's, P&G, major global publishers like ESPN and Huffpost, enterprises and small-medium businesses who are looking for higher engagement rates on their owned digital assets, increased conversion with leads collected from content, and data enrichment via connected content that is integrated with marketing/CRM platforms.

Description of the problem:

At the end of 2019, we launched a rebrand for the company that we had worked on for many months prior. It included a new name - EX.CO - a new logo, website, and identity. We had many plans on how to implement our new branding, including our employer branding, within our industry in the months following the launch, including attending and sponsoring global conferences and events. Most of those plans had to come to a halt in early 2020 when Covid-19 hit.

While the pandemic has eventually had a positive impact on EX.CO's growth, it definitely posed a challenge in creating awareness for our new brand, not just with potential clients but with potential employees, as well. We added over 30 new employees to EX.CO in the past year and the need to find talented team players is always challenging. Alongside the strong competition out there to attract the best talent, we're still a boutique company of 100 employees competing against the biggest players in the hi-tech industry who have thousands of employees. We had to find a clever way to make potential employees familiar with our new EX.CO brand and its values and advantages.

Presenting the refined solution:

When we thought of a potential solution we quickly realized it was right in front of us all along - our very own product. One of the key strengths of our content platform is its ability to deliver a message effectively in an engaging way, to tell a story that truly resonates. If we need to build our employer branding and get current employees and potential candidates familiar with what we are all about, the solution is simple - put our own technology front and center, use it for internal and external communications, and through that deliver the values that we want to focus on.

Here are a few ways we decided to leverage our tools:
Increase transparency: This is a very important value to our CEO and co-Founder Tom Pachys, and to all of our management team. Our goal was to make sure that every single employee is involved and aware of our direction and why we're going there, how decisions are made, what other teams are working on, processes and achievements – and, from time to time, also failures. Our employees are an integral part of our DNA, they make EX.CO what it is. Tom regularly shares his unmediated insights with the whole company, answers employees' questions, and adopts their ideas on how to further strengthen our future together. Since we couldn't all be in the same room due to social distancing and different locations, we started using our platform more and more to communicate new product releases, team achievements, and just ongoing fun information we wanted to share.
Collaboration beyond our work: We try to facilitate a highly collaborative work environment, even when everyone is working remotely and can't meet on a regular basis. For us, collaboration is formed not only around day-to-day work and so we wanted to create opportunities for employees to collaborate on things they care about outside of their roles. We used our content platform to survey employees about their interests and how to best connect cross-functional teams. One of the findings, for example, was that many of our employees are serious foodies, and so we encouraged initiatives like cooking competitions (whoever can come to the office is very lucky and gets to try delicious home-cooked goods) and sharing recipes on a dedicated WhatsApp group.
Encouraging employees and candidates to create their own content: Every employee and almost every candidate we interview is immediately invited to create content using our platform. Our newly recruited employees create an introduction story about themselves and their personal and professional interests using our tools so that the entire company can get to know them. For potential candidates, this is a great opportunity to get familiar with our brand and product in an enjoyable and engaging way - either by creating their interview assignment on our platform or by interacting with content created with our platform as part of the interview experience (for example, using our "choose your own adventure" experience to match candidates with the right role for their skills).

The Covid-19 Challenges and Solutions:

During the pandemic, the very important personal connection among employees and teams has become a real challenge to us all. Not to mention the fact that since we have employees in different locations worldwide, and so we work in various time zones, languages, and cultures. It's sometimes harder to get the message across in virtual conversations only. We wanted to maintain the connection among our employees, create a meaningful connection with potential employees, and be able to deliver on the values of the new brand we launched, all that without being in the same room (or the same country) with each other.

Assimilation:

Changing the name of our company definitely posed an employer branding challenge, considering our previous brand (Playbuzz) was well known within the local tech community. However, now, over a year after launching our new brand, we can safely say that we are super happy we went through this process and the results it has brought. Building our new brand allowed us to focus on the core values that matter, and craft our identity around them. We felt that it actually rallied our employees and potential employees around our mission even more, as they felt part of building something from scratch, rather than joining something that was fully figured out and that they couldn't really make an impact on. Highlighting that, plus letting our content technology lead the way, is what helped us find the right talent to join us, as they were passionate about what we do and excited to be part of creating something great together.

Conclusions:

Launching our new, cohesive brand identity helped refine our DNA around content that delivers results. It also brought us great results, both with our clients, who understand exactly what we're about, connect to our mission, and are happy to collaborate with us more than ever before, as well as our employees. In 2020 alone, 35 new and amazing talents joined EX.CO. We currently have 20 open positions waiting to be filled and a great flow of candidates who understand who we are and are excited to be part of our journey. If you've made it to the end of this article and you find our mission exciting, we'd love to meet you too!

For more information on EX.CO and open positions, please visit our careers page.