Chip giant Nvidia set to recruit 600 new employees in Israel
The company's announcement is expected to further intensify the battle for local tech talent
The demand for tech employees has been climbing consistently for the past few months and chipmaking giant Nvidia has now joined the list of companies that is on a recruiting binge.

Nvidia acquired Israeli company Mellanox, headed by Eyal Waldman, in 2019 for $7 billion, and at the time there were many doubts about whether it would continue its operations in Israel. Now, two years later, Nvidia decided to put its money where its mouth is. According to a person familiar with the move, the company aims to recruit 600 people across all of its local development centers for a range of positions, primarily with specialization in software.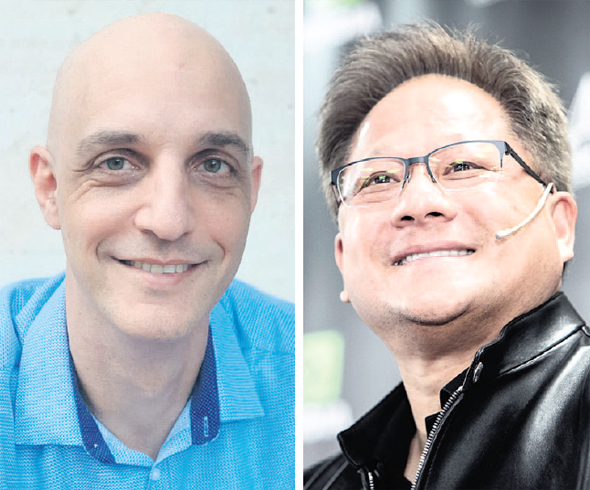 Nvidia's head of Israel HR Gideon Rosenberg (left) and CEO Jen-Hsun Huang. Photo: Gil Nachoshtan

Nvidia, which is currently traded at a valuation of $300 billion, is a leader in developing chips for the AI industry and is active in four main markets: gaming, professional graphic simulations, databases, and autonomous vehicles. The company plans to recruit software and hardware engineers in the fields of electrical engineering, software engineering and computer science, chip design, software and hardware architects, and quality assurance. The recruits will run the gamut from student positions to senior management.

Following its acquisition of Mellanox, Nvidia employs more than 2,400 people in Israel. The company has development centers in Yokneam, Tel Aviv, Ra'anana, Jerusalem, Be'er Sheva, Kiryat Gat, and Tel Hai and is currently recruiting for all of them.

"The software development team will be the largest recruiter alongside the chip design, architecture, hardware, and QA teams," Head of HR Israel Gideon Rosenberg told Calcalist. "We would be happy to add to our ranks people who lost their jobs due to the pandemic. Not only did we not lay off or furlough any employees over the last year, we actually recruited hundreds more."

The company's development center in Israel, the largest outside of the U.S., was first opened in 2016 with a few dozen employees. In 2018, it expanded its operations in the country with the establishment of an artificial intelligence research center led by Prof. Gal Chechik. The company's leap came after the acquisition of Mellanox, which recently changed its name to Nvidia Networks. Eyal Waldman, Mellanox's co-founder, and CEO retired fully from the company at the end of last year.

Nvidia's announcement is set to intensify the battle over high-quality tech employees, with multinationals with deep pockets facing off against homegrown growth companies. The battle has already led to wage increases that smaller companies are not able to match. This in turn has led to companies coming up with new solutions like adopting a hybrid or fully remote work schedule. Many companies nowadays are advertising the option of full-time remote employment. Some have even taken to carrying out aggressive billboard recruiting campaigns in order to fill up their headcount and meet their recruiting obligations to investors.

In addition to its own activities, Nvidia is deeply entrenched in the Israeli ecosystem through its Nvidia Inception program, in which it collaborates with 200 startups, offering them support, technological know-how, and business connections.