Israeli celebrities use Instagram to connect Gen-Z to Holocaust stories
For 24 hours the feeds of some of Israel's biggest influencers will be dedicated to stories of heroism as documented in encounters with survivors
Ahead of Holocaust Memorial Day in Israel, which is set to begin on Wednesday night, Israeli celebrtities and popular content creators have turned to Instagram to educate the younger generation and spread awareness of Holocaust testimonials through social media. As part of a collaboration between Facebook-Israel and the Israeli organization Latet which provides food for those in need, Holocaust survivors testimonies have been given a voice in the "Sharing Memories" (Ma'alim Zikaron) project to raise awareness of their plight by telling their story via social media and raising funds for those survivors.

Many Holocaust survivors today live in poverty and struggle to provide for themselves. According to data from Latet, 176,000 Holocaust survivors currently live in Israel, with about a quarter below the poverty line. During 2020, about 17,000 Holocaust survivors passed away, 900 of whom died from the coronavirus (Covid-19) pandemic. The groups hope to inspire younger generations to think earnestly about their plight as well as discuss and commemorate the Holocaust, and motivate them to become more socially involved with elderly survivors and aim to preserve their memory.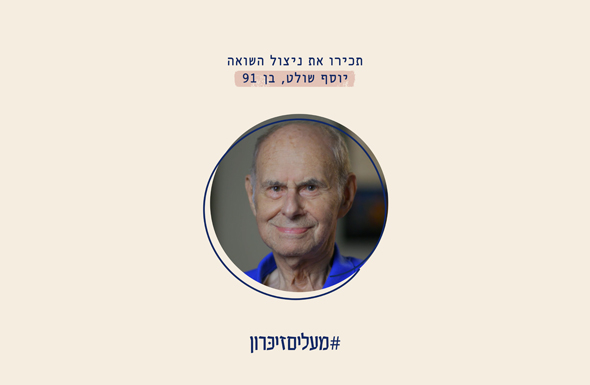 A mockup of a survivor's testimonial . Photo: Facebook Israel

During the course of the project, participants visited the homes of Holocaust survivors around the country who shared their horrific experiences. The meetings were documented by public figures, and will be uploaded as Instagram Stories to their personal accounts on the eve of Holocaust Remembrance Day. A link will be included in the Stories to donate to the survivors through Latet.

Some of the notable public figures include Israeli pop diva Noa Kirel (1.1 million followers), models Reef Neeman (352K) and Neta Alchimister (1.7 million), Israeli actors Kevin Rubin (298K) and Aki Avni (40.5K), chef Daniel Amit (284K), actress Amit Farkash (135K), Mizrahi singer Kobi Aflalo (38.8K), and Yedioth Ahronoth correspondent Raz Shechnik (27.2K), among others.

"The tragic idea of 'a generation slowly vanishing' is becoming more tangible than ever, and it is our responsibility to ensure that the events of the Holocaust are never forgotten. During an age where social networks have become hubs for promoting social initiatives, we understand that in order to reach the younger generation and make these concepts accessible to them, we must think differently, and therefore chose to take an active part in preserving the legacy and heroism of the Holocaust for the next generation," said Facebbok Israel Country Manager Adi Soffer-Teeni.

"I recently spoke with Zvi, one of the Holocaust survivors who agreed to share their story as part of the 'Sharing Memories' project. One of Zvi's statements will remain forever etched in my memory: 'We have gone through the worst of all, worse than anything a person can imagine, but the fact that there are still Holocaust survivors in our country living in poverty is shameful.' We need to remember them not only during Holocaust Remembrance Day, but throughout the year and do them justice," Tzahi Langer, Latet's VP of marketing, said.