HR Post Covid
With the majority of Israelis vaccinated, Agritask is ready to return to the office
It's been a long year of social distancing and Zoom calls, but for the Israeli headquarters of the agtech company, things are finally looking up
Covid-19 has been a long and stubborn disruptor to worklife, but with Israel leading the way in vaccinations, it appears that offices are finally reopening across the country. For agtech company Agritask, it means a return to the office culture they missed so much.

"With the vast majority of local Israeli employees fully vaccinated, we're looking forward to some well-deserved, much-needed team events," said Erin Bronstein, Agritask's Head of HR. "From BBQs to team-building activities, we're all excited to get together again."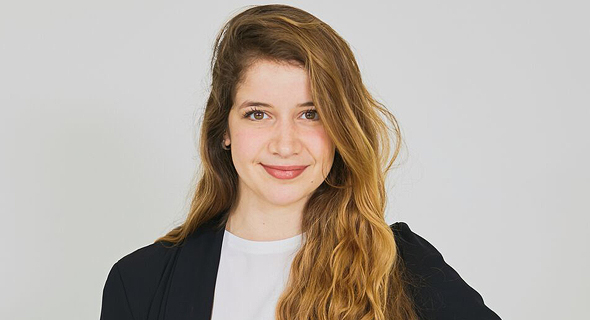 Erin Bronstein, Agritask's Head of HR. Photo: Liron Weissman

While the company didn't force anyone to receive the widely-distributed vaccine, "we encouraged it in order for us to start getting back to normal and for the teams that are able, to meet a few times a week," she added.

Agritask has joined CTech for its HR Post Covid series to explore how the vaccination program will change office life in the next few weeks.

Company Name: Agritask

HR Leader: Erin Bronstein

Field of Activity: Agriculture Technology

Number of employees/location: We have about 75 employees spread across our HQ in Tel Aviv, Israel, our site in Bulgaria (Plovdiv), and Brazil (Primavera Do Leste, Mato Grosso).

Professional background of HR Manager:

I have a BA in Management, Economics, and HR from Bar Ilan University and five years experience as the Chief of Staff & Head of People at an AI startup company.

Previously, I was a First Lieutenant Officer in the IDF, training 180 soldiers and 30 staff at a time.

On a scale of 1-10, how much did the coronavirus pandemic disrupt operations at the company?

If we had to choose a number on the scale, we could say 4. It's somewhat of a difficult question because "disrupt" has a bit of a negative connotation when it can be positive, as well. For example, the disruption of e-commerce to traditional retail: disruptive to incumbents but offering more choices to consumers. The pandemic challenged and built us simultaneously.

The company has continued growing and closing deals with clients. Many potential clients in this usually conservative sector have now seen the need for digitization in order to manage their operations while minimizing physical work. We also see greater interest in solutions that enable them to have information from the fields without going there, such as remote sensing, integrations with IoT devices, etc.

On an operational level, there is no doubt that it has been difficult not being able to travel and conduct business in person but we've found interesting ways to overcome this hardship.

What interesting technological tools do you use in employee management/ recruitment?

We are currently using Freshteam services as an Applicant Tracking System (ATS) and are posting our positions through Linkedin and relevant Facebook groups. As we are constantly growing, we expect to implement an E2E HRIS sometime next year that can accommodate our global people management needs.

What positive and/or negative impact did the outbreak have on the human capital of the company?

The outbreak had both a negative and positive impact on our human capital. In the agriculture sector, the need for environmental sustainability and all-encompassing agriculture technology is ever-growing. Our employees have been working tirelessly and it has been a struggle to maintain contact and ensure everyone is okay.

On the other hand, it blurred the limits between our local HQ and more remote employees and enabled us to embrace our remote employees even more as everyone was now in the same remote situation. Additionally, the flexibility we maintained from before the pandemic has become even more important and appreciated. Being able to trust your teammates' ownership and remote responsibility is highly appreciated in these times.

The winds of change came after a drop in engagement, as we realized our hyper-growth from the end of 2019 matched with a difficult year of Covid-19 regulations and consequences required us to now step up our game in employee connection.

After rolling out a company-wide satisfaction survey at the end of Q1 this year, we've already started implementing some changes, from updating our work methods to introducing more organized meetings, rearranging a more efficient organizational structure, standardizing company updates, and adding more benefits throughout. We're also now introducing further forums and opportunities for sharing knowledge and communicating top-down and down-up.

Other than that, with the vast majority of local Israeli employees fully vaccinated, we're looking forward to some well-deserved, much-needed team events, from BBQs to team building activities, we're all excited to get together again.

What are the two major challenges you are coping with these days?

As mentioned before, we're a global team, and as such, the pandemic hit everyone in their respective countries a little differently. One struggle is connecting the remote team through a diverse work schedule. At our Israeli HQ, we're focused on maintaining a balance between our hybrid way of working from home and attending the office, while trying to make people feel comfortable and connected with whatever they decide to do. We didn't force anyone to arrive at the offices or get vaccinated, but we encouraged it in order for us to start getting back to normal and for the teams that are able, to meet a few times a week.

Are you actively recruiting? If so, what is the process and where can the applicants find you?

Yes! We are fervently recruiting to continue growing our operations on a global scale and are looking for amazing people to join the ride! The process usually includes a screening call to make sure first that we have mutually similar expectations, and then a professional test depending on the role. Usually, the candidate will have a meeting with the direct manager as well as with someone from their expected team. In some cases, we bring on a member of a parallel team the candidate will be working with to take part in the interview process as well, as we believe in the importance of checking the chemistry as a team player and having good vibes with the larger team.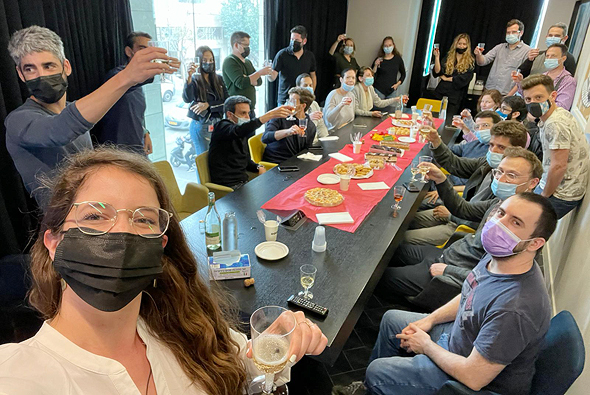 The Agritask team. Photo: Liron Weissman

The most positive aspect as found in our recent employee satisfaction survey across the organization is, you guessed it - our people!! We plan to continue being a people-first company and adding more talented and diverse team members who mesh with and can add to our company DNA.

You can find out more about our open positions on our Careers page, as well as through our LinkedIn posts.

Which changes forced upon you by the circumstances will stay in place after Covid-19 is over, and which are you most eager to revert back to normal?

One change we will continue to adapt to is our hybrid way of working. We accommodate employees from near and far (both in Israel and abroad) in a work environment that welcomes diverse employees from all different backgrounds and living conditions. Though we're pros at managing meetings on opposite sides of the word (shoutout to our Brazil site who are sometimes encouraged to raise a toast with us at 9:30 AM their time - it's always a happy hour somewhere- am I right?) We hope to be able to see more of our employees out of the Zoom window and into the physical realms of working and collaborating together.