Fintech Fued: Israeli banks trade allegations of data theft and intimidation practices
Bank Leumi accuses its former executive of stealing confidential info and handing it to his new employer, the Digital Bank
The departure of a senior executive from Bank Leumi's Pepper online banking service in favor of the Amnon Shashua controlled Digital Bank has sparked a skirmish between the two fintech entities. Calcalist has seen correspondence between the two entities in which they trade severe accusations of data theft on one side and bullying behavior on the other.

Less than two weeks ago, Pepper's VP of marketing Eran Bar-Yochai announced that he would be leaving the Bank Leumi subsidiary after having worked there for five and a half years in favor of a position as Creative Manager for the Digital Bank, which is currently at the pilot stage.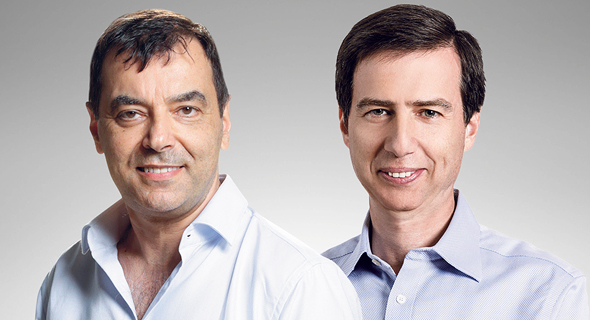 Amnon Shashua (left) and Hanan Freidman. Photo: Oren Dei and Amit Shaal
Last week, Hanan Friedman-led Bank Leumi sent a letter to the Digital Bank demanding that Bar-Yochai's cooling-off period between roles be extended from three to 12 months, claiming that he had taken with him confidential files and data that belongs to Pepper. The letter also claimed that Bar-Yochai had recently taken part in a meeting in which Pepper's strategic plan for coping with the Digital Bank's entry to the market was discussed, at a time that he already knew he was going to work for the competition.
"A data security inspection that was conducted by Pepper in close proximity to his notice of departure, revealed that Bar-Yochai had for years been unlawfully stealing a large number of documents, including files and top-secret data, from the company. Among the documents were some that pertain directly to Peppers business plans and most recent strategies," Bank Leumi's lawyers, Asher and Yaron Lestrel wrote. "The stolen materials include a classified presentation that was presented at a recent Pepper strategy meeting, detailing its most secret business plans, including its preparation strategy on how to handle the expected competition with the new market player- the Digital Bank."
Bar-Yochai adamantly rejects the allegations. "I didn't, and don't plan to, make use of any of Pepper's secret plans in my new role," he wrote in a response letter. "I have been loyally and dedicatedly working at Bank Leumi and Pepper for the past five and a half years. I feel great sadness and regret that a period that was so substantial and significant for me is ending in such a grim and degrading manner. I hope that the bank realizes that the suspicions and accusations are baseless and finds a way to express its regret for raising them."
Bar-Yochai's new employer the Digital Bank is backing him up and rejecting out of hand Leumi's demand that the cooling-off period be extended. "Instead of choosing to compete in a fair manner, using customary practices, Bank Leumi has opted to carry out a personal battle with the Digital Bank using forceful and predatory means, adopting an 'anything goes' mentality. Bank Leumi is attempting to bully the Digital Bank and strike a blow to the competition by raising claims that are legally and factually groundless, knowing full well that the claims are false," Aya Ashtar, the Digital Bank's legal counsel wrote.
The first letter dealing with the issue was fired off by Bank Leumi. The bank's letter notes that when Bar-Yochai was asked why he had forwarded the materials to his personal email account, he was unable to provide an explanation for his behavior and refused to undergo a lie detector test. "We are dealing with a series of grievous deeds. Bar-Yochai functioned as a Trojan Horse within Pepper, which he now wishes to leave, with goods in hand, in favor of a senior marketing role at a direct competitor. Employing Bar-Yochai under these severe circumstances cannot be misconstrued as anything less than collaborating with the egregious acts that are described," read the letter which was sent to the Digital Bank, its board members, headed by former Bank Leumi executive Shuki Oren, and to the Bank of Israel.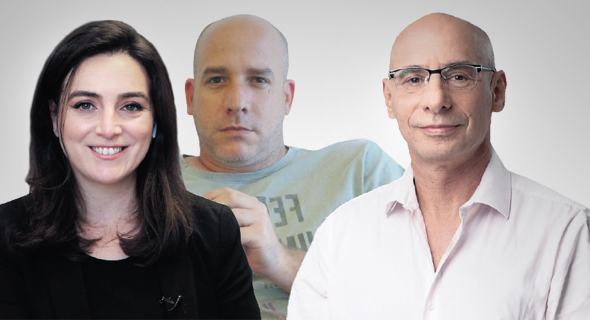 Michal Kissos (left) Eran Bar-yochai, and Shuki Oren. Photo: Yanai Yechiel, Yonatan Hefner
Bar-Yochai denies Leumi's allegations. He claims he operated transparently opposite the bank once he had decided to leave. "I chose not to hide my move to the Digital Bank out of a feeling of responsibility and appreciation to Pepper and (Pepper CEO) Michal Kissos. The notice I was moving came less than 24 hours after I signed on with the Digital Bank. As a result of my announcement, the bank's security department raided my computer and email account and scanned them as if I was a criminal, discovering that in the past I had sent myself various electronic files," he wrote.
Bar-Yochai explains that he forwarded himself the files so that he could work on them from home and that it had nothing to do with his departure from Pepper. "These actions took place a long time ago, long before I had plans to leave Pepper, never mind before I was even in touch with the Digital Bank. I sent myself the documents so that I could work on them while at home. Doing so was not unusual and as far as I know, many other bank employees do and have done the same on occasion. I said the same to the representatives of the bank who interrogated me on Friday after I was summoned hysterically for a meeting where three interrogators were waiting for me," he wrote.
Bar-Yochai also denies that he participated in a meeting that dealt with Pepper's strategy ahead of the arrival of the Digital Bank, knowing that he was about to switch sides. "It is a blatant lie and a complete distortion of facts. Just like I told Kissos, my decision to leave was made during the Passover holiday and the week immediately after it (the first and second week of April), the contract was signed on Wednesday and I submitted my notice on Thursday." He adds that he has full intention to maintain the three-month cooling period as his contract with Bank Leumi stipulates (and no longer0 and that he expects to be fully compensated for them just like others who have left Pepper received.
The Digital Bank claims that the sole purpose behind Bank Leumi's claims is to place pressure on the new competitor: "Your letter pertaining to the matter, as well as your rush to inform the media, speaks primarily to the high level of panic Bank Leumi feels about the expected arrival of the Digital Bank and how it sees it as a chief threat to Bank Leumi in this field."
As for the claims about the Digital Bank using secret Pepper data that is held by Bar-Yochai, the Digital Banks' lawyers write: "The Digital Bank does not need or require secret information of any kind about Bank Leumi and does not plan to make use of any such data. Information of that kind, assuming it exists, was never transferred to the Digital Bank. The Digital Bank plans to bring innovation into the banking sphere through fair competition alone."
Bank Leumi's pepper is a central competitor to the Digital Bank. As part of its personnel recruitment efforts, several former Pepper employees were brought on board, including the CEO, Gal Bar Dea, who previously was Pepper's VP of product.
The Digital Bank, which is set to offer mostly household banking services is currently in its pilot stages and is expected to fully launch by the end of the year. The initiative was launched three years ago, with a commitment of $60 million by the company's founder Amnon Shahua, who is also the founder of Mobileye, which was acquired by Intel. The Digital Bank already has a banking license and is a member of the Tel Aviv Stock Exchange.
Pepper is Bank Leumi's digital bank and has been operating for nearly five years. Leumi has repeatedly claimed that Pepper is a success and has become the biggest client magnet in the Israeli banking sector, however, it has yet to provide any financial reports or market segmentation data about the service.
The Digital Bank says its product is different from Pepper's and is designed for a different user base and that its central competition is not Pepper, but the traditional banks. In any case, it appears that even before its official launch, the Digital Bank is on tense terms with Bank Leumi, exemplified by the recent exchange of letters that may end up in the courtroom.
"The Digital Bank regrets the fact that Bank Leumi has responded in an inappropriate and bullying fashion to the competition posed by the Digital Bank while attempting to harm an esteemed manager's freedom of employment in an effort to intimidate other Bank Leumi employees. The Digital Bank will shake up the concentrated banking sector due to its unique capabilities and using only fair and legal methods The prohibition on the use of a former employer's secret information, assuming it exists, is intransgressible," The Digital Bank said.
"Pepper's success has led to Pepper's excellent employees becoming targets for courting by other organizations. Pepper does not stand in the way of anyone who seeks to change workplaces, subject to the accepted rules. However, the theft of secret data at an immense scale is a grievous incident and will be treated accordingly. An honorable organization would never employ someone who carried out such a serious transgression." Pepper said.