HARMAN and Audioburst bring personalized listening experiences for drivers around the world
HARMAN has 50 million automobiles on the road with its audio and connected car systems
Audio search and delivery platform Audioburst has announced its availability on the HARMAN Ignite Store, a connected vehicle platform that connects consumers with content providers. The Audioburst Android Automotive app is available to augment vehicle 'infotainment' systems and can provide drivers and passengers with access to a searchable library of audio content.

"We are excited to welcome Audioburst to the HARMAN Ignite Store Ecosystem and to bring its innovative technology to our OEM customers," said Albert Jordan, VP, HARMAN Ignite Store business unit at HARMAN. "Our HARMAN Ignite Store is designed to optimize the driving experience by connecting consumers to their favorite apps and media content, seamlessly, through their vehicle. Delivering superior Experiences Per Mile is at the core of our HARMAN Automotive mission, and the rich, personalized experience offered by Audioburst fits perfectly with our vision."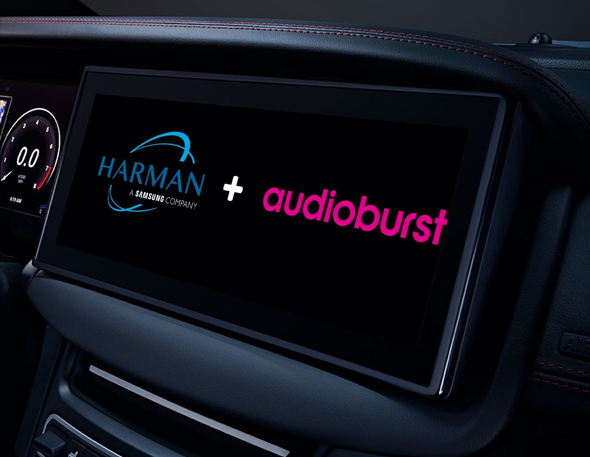 Daily commutes are a major time when people decide to tune in to new audio content. Photo: Audioburst

Audiobust's AI technology listens to thousands of podcasts and radio stations, and then analyzes and indexes millions of long-form content and cuts it into short-form audio clips. Anything from keywords, metadata, or sentiment can be detected to find the most relevant audio clips. As well as providing listeners with user-specific content during their rides, Audioburst APIs can provide car manufacturers with user analytics and monetization opportunities, such as steering advertising decisions.

"There's an endless amount of quality audio content out there," said Amir Hirsh, CEO and co-founder of Audioburst. "But while audio offers the promise of eyes-on-the-road, many drivers actively browse podcasts and radio stations in futile, and at times dangerous attempts to find relevant content. Advanced audio search, personalization, and discovery capabilities were missing in the car until recently. Now, drivers can tell us exactly what they'd like to hear, and we will do the rest. Audioburst generates always-fresh, relevant and personalized podcast and digital radio playlists that delight drivers, through a safe and intuitive design, leveraging the rich template library of the HARMAN Ignite Store.״

The partnership will help HARMAN, as well as mobile apps, sites, and connected devices, expand into Audioburst's content library. The news comes roughly a month after the company announced Platform for Apps, a platform that acts as the world's first podcast feed for mobile apps. Today, 100 million regularly listen to their favorite podcast or talk radio stations, with daily commutes being a major time when people decide to tune in to new audio content.

Audioburst was founded in 2015 and has raised $24.3 over three rounds. Its API and SDK solutions help app developers, publishers, and automotive companies access the world's largest indexed library of audio content. HARMAN, a wholly-owned subsidiary of Samsung Electronics, designs and engineers connected products and solutions for automakers. Today, more than 50 million automobiles are connected to HARMAN audio and connected car systems.