Your secrets are safe with Akeyless, who just raised $14 million to upgrade cloud security
The company protects all types of secrets, across multiple environments, via a single SaaS-based platform
Secrets management company Akeyless has announced that it has secured $14 million in series A funding led by Team8 with participation from Jerusalem Venture Partners. The company will accelerate the product development and growth of what it claims is the world's first SaaS-based unified vault, designed for secrets management and zero-trust access.

Akeyless provides a 'Secrets Orchestration Platform' that unifies several use cases into one solution. Its platform offers secret management, zero-trust access, and data protection such as encryption, signing, and KMS, based on Akeyless DFC, the company's virtual HSM FIPS-certified technology.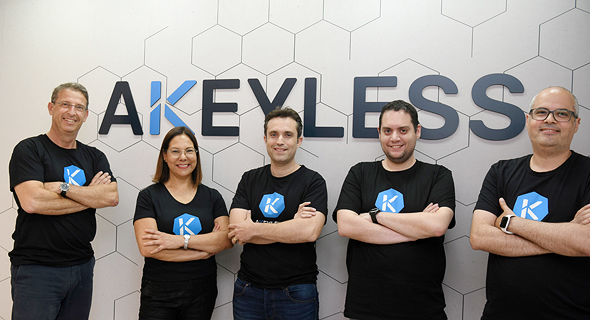 The Akeyless management. Photo: Yossi Zeliger

"Having the backing of both Team8 and JVP, the ideal venture partners given their track record in powering the success of innovative cybersecurity startups, is testimony to the disruption Akeyless brings to the market," said Oded Hareven, Akeyless co-founder and CEO. "We are thrilled to have their invaluable support as we bring our innovative secrets management platform into the new era of hybrid and multi-cloud. Our highly scalable enterprise-grade service is designed to serve an infinite number of customers, secrets, and transactions, built on top of multi-region and multi-cloud operations."

As the world continues to see the expansion of hybrid and multi-cloud solutions, our secrets - such as passwords, credentials, certificates, and keys - are used across a variety of workloads including DevOps, privileged users, and IT security platforms. As new cloud-native distributed infrastructure has scaled in size and scope, a new approach is needed to manage privileged access for machines and humans. Akeyless leverages its patent-pending Distributed Fragments Cryptography (DFC) to provide a SaaS-based root-of-trust in a non-trusted distributed environment.

"Secrets management is a top priority for enterprises," said Liran Grinberg, Managing Partner, Team8 Capital. "But cloud providers' offerings are limited, and Akeyless's competitors' solutions are expensive, incomplete, and hard to maintain. Akeyless's robust secrets management-as-a-service doesn't require an enterprise to install and maintain it, making it frictionless and affordable. As companies migrate to the cloud, the combination of secrets management and zero trust is critical – Akeyless applies advanced cryptography to make its SaaS offering resilient to attacks."

Yoav Tzruya, General Partner at JVP added: "We are happy to welcome Team8, joining us in building the next category leader in the secrets management domain. We've seen Akeyless demonstrate its value, providing a ubiquitous, zero-trust, secrets management-as-a-service to large-scale customers over the last year. We believe that in joining forces with Team8 and the founders, we will be able to build Akeyless to its full potential as a dominant solution."

Aykeyless was founded in 2018 by Shai Onn (President), Oded Hareven (CEO), and Refael Angel (CTO). It is a SaaS-based vault for secrets management and zero-trust access. Its vault allows organizations to manage and protect all types of secrets, across multiple environments, via a single platform.