Automotive chipmaker Valens secures billion-dollar SPAC
The Hod Hasharon-headquartered company has reached an agreement with PTK Acquisition Corp. to go public on NYSE
Israel-based automotive chip company Valens Semiconductor Ltd. announced on Tuesday that it has entered into a definitive business combination agreement with PTK Acquisition Corp., a special purpose acquisition company (SPAC) traded on the New York Stock Exchange. The combined company will be called Valens and will trade on the NYSE under the symbol "VLN" following the close of the transaction.

Calcalist published last month that the merged company is set to be valued at between $1 billion and $1.2 billion, and Valens announced on Tuesday that the post-transaction company is set to have an equity value of approximately $1.16 billion.

The transaction is expected to deliver approximately $240 million of gross proceeds, including up to $115 million of cash held in PTK's trust account (assuming no redemptions) and $125 million from a fully subscribed PIPE offering led by an established sovereign wealth fund, as well as by Mediatek, a leading global semiconductor company for mobile, home and automotive.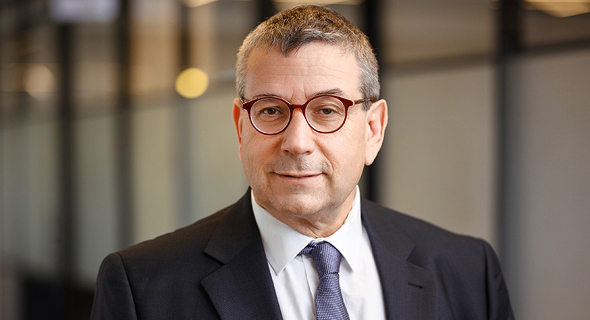 Valens CEO Gideon Ben Zvi. Photo: Doron Letzter

Based in Hod Hasharon in central Israel, Valens was founded in 2006 and manufactures semiconductor products for the delivery of uncompressed HD multimedia content for the automotive, industrial, and consumer electronics markets. The company has raised $167 million to date from investors including Goldman Sachs, Samsung, and Oppenheimer Asset Management. Valens currently employs a team of 300 people in Israel, the U.S., Germany, Japan, South Korea, China, and Taiwan.

"Valens sets the bar in every industry we touch. Our chipsets are in high volume production with several leading automotive Tier-1s and are currently on the road in Daimler vehicles," said Valens CEO, Gideon Ben-Zvi. "The automotive market presents an immense opportunity that will continue to grow as OEMs introduce new vehicles with far more sensors and displays than ever before. Valens' upcoming standard-compliant chipsets are poised to revolutionize the global automotive industry with connectivity solutions for infotainment applications, ADAS systems, and autonomous driving. In audio-video, our HDBaseT technology is a leading standard for long-range connectivity and is embedded into thousands of products from top-brand manufacturers."

Valens is part of a long list of Israeli companies who are already in the process of going public via a SPAC, including ironSource, eToro, StoreDot, and Cellebrite.

Valens has annual revenue in the tens of millions of dollars and is expecting to reach hundreds of millions in sales from existing projects. Its balance sheet is believed to currently be at $100 million.

Valens was divided into two main divisions in 2015, Valens Automotive and Valens Audio-Video, which is focused on solutions for the rest of the sectors. The company announced last year that it has partnered with Aptiv to develop its Smart Vehicle Architecture (SVA) platform, which reduces the number of connections and individual devices within vehicles with a centralized, shared architecture, leading to increased flexibility and redundancy and reducing total system costs.

Valens Automotive has worked with many of the industry's leading players, including DENSO, Mitsubishi Electric, Qualcomm Technologies (a subsidiary of Qualcomm Incorporated), STMicroelectronics, Brose, Western Digital, Tektronix, TSN, and NVIDIA.

Valens founder Dror Jerushalmi announced last February in an email to employees that he is stepping down from his role as CEO, which he held since the company's founding, due to personal reasons effective immediately. Venture capitalist Gideon Ben Zvi, who was a member of Valens' board, was selected to succeed Jerushalmi. Last April, the company announced the appointment of Peter Mertens, the former head of research and development at Swedish automotive company Volvo Group and former technical development chief at German automaker Audi AG, as chairman.

Peter Kuo, CEO of PTK Acquisition Corp., stated, "With Valens, PTK identified a rare opportunity to combine with a company that is defining the future of connectivity and is validated by multiple industry standards. With a proven track record of success, Valens is public company ready, with a large addressable market, marquee customers, and a compelling business model with a high degree of revenue visibility. We are thrilled to partner with Valens' best-in-class management team as they leverage the capital from this transaction to fuel sustained growth and success."