Biotipac wins Women of AgriFood Nation 2021
The company, led by Ifat Hammer, develops technology to extend the shelf life of fresh food products
The Women of AgriFood Nation announced the winner of its second annual competition designed to increase exposure to women-led technological ventures in AgriFood. Ifat Hammer, who leads Biotipac, claimed the top spot after showcasing her technology that helps live probiotic bacteria to grow naturally on account of rot-causing bacteria, ultimately decreasing food waste and extending the shelf life of fresh food products.

The competition is an initiative of the ACT FoodTech organization alongside the Israeli venture capital fund COPIA Agriculture and Food Technologies. Part of the motivation behind the competition is due to the fact that while 50% of AgriFood research programs in academia are led by women, a small minority of AgriFood startups are actually headed by women. As part of the prize, Hammer will receive an investment of $200,000 from COPIA, subject to negotiation and due diligence.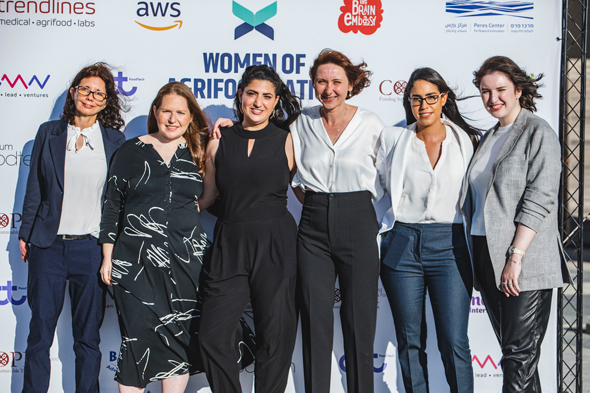 The AgriFood Nation 2021 finalists. Photo: Itay Skaliter

"There is a high representation of brilliant women in academia, especially in the AgriFood field, so there is no reason for the lack of presence of women-led startup initiatives in the AgriFood industry as well," said Carmit Oron, ACT FoodTech CEO. "A Forbes report published in 2019 showed that women-led technology companies enjoy a 35% higher return on investments. Yet only 3% of the money invested in the last decade was invested in startups founded by women."

According to Oron, in 2021 only 11 out of 106 AgriFood VC funds include women in the investor team, and the probability that a VC fund that has a female as a partner will invest in a company whose CEO is a woman is three times higher. "Therefore, we need more women in the decision-making position," she added.

The judges had chosen Biotipac from six finalists based on certain criteria: Deep scientific and industrial knowledge of the entrepreneur; A broad solution that fits several verticals; Solves a real market need in a new way; Focused market strategy; A clear, easy to implement business model; Scalable and cost-effective solution; Strong IP potential; Improves sustainability.

"65% of the AgriFood research programs in our portfolio that originate from Israeli research institutions are led by women, while only a few of the startups we meet are led by women," added Ohad Zukerman, Managing Partner at COPIA Agriculture and Food Technologies Fund, and a co-founder of the competition. "COPIA perceives itself as a leader promoting gender equality in the business sector. The business sector can and should lead the change, and this competition is the peak of our activity. We believe that the tools we gave to all six finalists will enable them to succeed in the future."

ACT FoodTech and COPIA Agriculture and Food Technologies Fund led the competition with support from Strauss, Tnuva, Amazon AWS, Mondelez, and more. Last year's winner, Adi Yehezkeli, CEO of FABOMINE, received an investment from the IFF Lab.