SavorEat establishes new subsidiary to develop plant-based egg alternatives
EGG'N'UP will operate independently of SavorEat, which has produced plant-based 3D-printed meat replacement burgers
Plant-based meat substitute producer, SavorEat, has announced that it is opening up a subsidiary to tackle another protein in the plant-based battle for our meals. EGG'N'UP will have a crack at developing food products based on natural egg substitutes, designed to replace eggs without impeding on their original taste or nutritional values. The venture is backed by Millennium Food-Tech, who originally funded SavorEat in its seed round and will now be a key investor offering an additional $2.5 million to build the subsidiary.

"I am delighted at the successful collaboration with Millennium Food-Tech," said Racheli Vizman, SavorEat co-founder and CEO. "Our joint objective is to provide quality, healthy and tasty plant-based products to our consumers. We have discovered a great deal of potential in the company's unique cellulose fibers, which we are translating into the development of additional products that will provide us with broader exposure to a greater variety of audiences, including vegetarians, vegans, and flexitarians… We believe that leaving a footprint in an additional sector, apart from meat alternatives, will open up new business opportunities and enable us to continue doing what we have strongly believed in from the outset."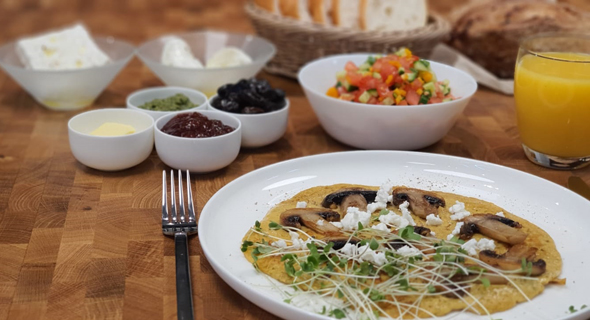 A look at the future of plant-based egg substitutes. Photo: PR

SavorEat is currently working on the launch of its flagship product, Robot Chef. Earlier this year, CTech tasted a plant-based burger produced by its team and it appeared to be a technically perfect and enjoyable replacement to conventional meat-based foods. The egg substitutes are based on development carried out by Prof. Oded Shoseyov, SavorEat's co-founder and CSO.

"The global alternative protein market is in a state of constant growth," added Chanan Scheider, Millennium Food-Tech CEO. "The available data shows that there is both a need and considerable demand for an egg substitute in the pastries market and additional markets too. The new company established brings with it another and better solution compared to its competitors, which could turn it into a significant global player in this field."

Similar to SavorEat, EGG'N'UP intends to crack the U.S and European markets initially as a B2B product via foodservice companies and food manufacturers. Later, it plans to scramble toward a B2C plan and market the product directly to consumers as an appliance, similar to everyday coffee machines found in most kitchens today.

The global egg network, unsurprisingly, is a massive $200 billion industry and expected to reach a boiling point of $244 billion in the next two years. Mexican mouths poach the most eggs per capita, followed by Japan, China, the U.S, and Europe. As of 2018, the egg substitutes market amounts to $1.4 billion, expected to rise to $2.1 billion by 2026. In the U.S. alone, the growth rate is considerably higher: the U.S. egg substitutes market in 2019 grew by 192% compared with the previous year.

SavorEat was founded in 2018 by Vizman, Shoseyov, and Prof. Ido Braslavsky, who serves as the company's CSO. It has 12 employees and its technology, which is developed at the Hebrew University Faculty of Agriculture, was awarded an exclusive trading license from Yissum, the university's commercialization company. Millennium Food-Tech is under the management of Chanan Schneider (CEO) and Guy Rosen (Chairman). It focuses on companies operating in the tailormade food, alternative proteins, reduction of food waste, smart packaging, AI, and new food ingredients sectors. It currently has four companies in its portfolio, with SavorEat marking its first.