"I believe that every application on the planet will be smarter or irrelevant"
Sisense CEO Amir Orad joins CTech to talk about the future of work in a data-driven world
As the world becomes more connected through platforms, devices, or applications, organizations are aware of the fact that their services must include analytics to better serve their customers. According to Sisense CEO Amir Orad, there's no part of the world that is immune from the revolution that is coming.

"We're on the journey to be everywhere but it's a long journey," he told CTech. "I believe that every application on the planet will be smarter or irrelevant."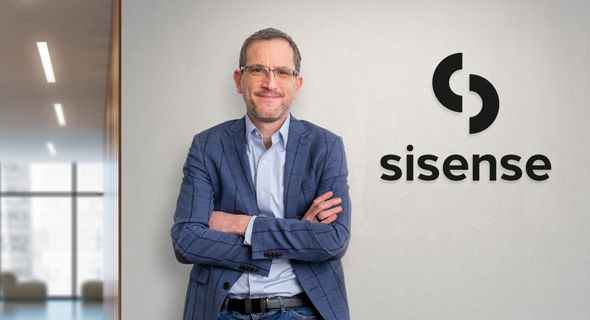 Sisense CEO Amir Orad. Photo: Adi Telwer

Orad joined Sisense in 2015 and has since overseen its growth to more than $100 million in revenue. The company helps any organization 'inject' or 'infuse' analytics into their products and applications, helping them become smarter and ultimately better serve their customers. Its service, Orad believes, is transforming the world in the same way internet adoption of social media altered our lives.

"You see it all around you," he continued. "It takes time. Internet adoption took time, social media took time, mobile and IoT takes time, but it's a very clear direction, and we are on that route to be the analytics provider for those applications, injecting insights into the digital workflows. If you ask me where the world is going, every experience we have will become smarter."

According to Orad, Sisense is used by more than 2,000 companies that depend on its technology to better serve their customers. Comparing the use of analytics with the replacement of maps with GPS systems, he says that "basic mundane decisions will be automated" in the future, resulting in some jobs being automated, but expecting new jobs to be created at the same time.

"The transition is always challenging and that's been the case with technology since the early days. But, in general, it makes humanity better, healthcare better, longevity higher, education better, poverty lower, many good things happen with it."

One customer, grocery delivery platform Instacart, demonstrates how infusing analytics can ultimately improve businesses. "Instacart is now providing insight to all the grocery stores about who is buying what, where, and why," he explained. "In the past, the grocery store did not know who buys what. Someone walks in, (would) take something, and walk out. Now it's all digitized by this delivery app, it can provide significant insights that make the service better, more efficient, and faster."

Sisense can help infuse its analytics to large grocery stores, but it can also help hospitals to assist with staffing issues, or even assist ventilator operators to distribute healthcare services to needed regions. Last year, the U.S government used Sisense to determine what countries, states, or hospitals needed ventilators as Covid-19 spread across the country.

Before joining Sisense, Orad was the CEO of Actimize, a financial crime prevention solution ultimately acquired by NICE, and the co-founder of Cyota, a leading payment security provider for financial institutions which was sold to RSA security for $145 million. If Cyota sounds familiar, it's because his co-founder, Naftali Bennett, is about to succeed Benjamin Netanyahu as Israel's prime minister. Out of three companies, the first he founded and the others he later joined.

"The first time you found a company, you know nothing but you have endless energy, conviction, and belief," he told CTech. "And that supersedes or overrides the experience you lack in running and building a company. The advantage of doing it a second time, joining or starting another one, is that you have a lot more muscle memory and insight into the mistakes you made before... When you join a business, it's like marrying into the family. Both sides choose each other and require deep chemistry and joint belief, or view of life."

That marriage is made with the people - people in the deep sense, who have chemistry, an ability to work together, and a cultural alignment that makes up the company's DNA. "I'm very proud of the team I have at Sisense. Technology will not replace THAT," he concluded.