Disney+ finally makes Aliyah, coming to Israel this year
The Mouse House will be competing against Netflix, Amazon Prime Video, and Apple TV
Israeli fans of The Mandalorian and the latest Marvel television shows can rest easy this summer knowing that the long-awaited arrival of Disney+ is nearly here. Calcalist has learned that Disney is expected to launch the streaming service at some point in 2021's fourth quarter, likely to be September to coincide with the Jewish holiday season.
Disney+ launched in 2019 and was widely considered an instant and formidable opponent to Netflix. It saw 10 million signups in its first day - more than the entire Israeli population - and reached 50 million subscribers in its first five months. Today, it has more than 103 million subscribers around the world compared to Netflix's 207 million.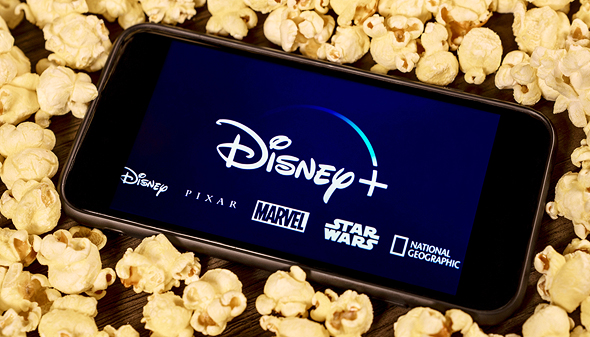 The world of streaming has become a crowded and fragmented area in the last few years. Photo: Shutterstock

Disney+ will be arriving in Israel and aiming to penetrate a busy arena. It will join Netflix, Amazon Prime Video, and Apple TV, all of which are already here with tailored content for local audiences. According to sources, Disney has already sent 5,000 hours of content for dubbing and translation to Davidoff Studios, including the new Disney-Pixar animated film, Luca.

Israeli audiences will soon have access to Disney's gigantic vault of content including all Star Wars movies and shows, the Marvel Cinematic Universe, which is the most successful film franchise in history, National Geographic, and ESPN sports content.

It is not clear how much Disney will charge for its service in Israel, but in the U.S it is $8 per month (26 NIS) or $80 for the year (260 NIS). Netflix's basic price is $9 per month in the U.S and currently 33 NIS in Israel, although this can rise to 61 NIS ($18) depending on the package.

The world of streaming has become a crowded and fragmented area in the last few years, in no small part due to Covid-19 and the lockdown laws that kept everyone at home for a year. As production companies rush to take their content off hosts like Netflix and launch their own services, audiences can expect their favorite shows and movies to be spread across multiple streaming platforms. NBC has launched Peacock that hosts popular shows like 30 Rock, Parks and Recreation, and Downton Abbey; whereas HBO Max hosts content like Friends, The DC Extended Universe, and other classic movies from Warner Brothers. Neither platform has announced plans to come to Israel just yet.

As well as original material, Disney+ also hosts classic shows like The Simpsons and practically all of the movies we watched as children. It also is producing new shows based on old IP such as WandaVision, Beauty and the Beast prequels, and other content it has been buying throughout the years. Aware of this, powerhouses like Netflix and Amazon, who have no backlog of previous content, are either spending billions of dollars on original shows that they hope can compete against Disney or they are purchasing old studios, like in the case of Amazon's recent purchase of MGM Studios, the home of James Bond.

Either way, we can expect the battle for our screens to continue long into the next few years.