CYE partners with OTORIO to combat ransomware attacks with single-pane solution
The Israeli companies aim to improve the security of American pipeline operators following a string of cyberattacks
CYE, a cybersecurity optimization solution, has partnered with OTORIO, an industrial-native cyber solution, to provide an integrated solution for companies with converged IT/OT/IoT environments looking for ransomware protection. The two Israeli companies aim to help customers convert new U.S government regulations for critical pipeline owners and operators into practical cybersecurity plans and develop steps to improve their security.

"The partnership with OTORIO comes at a time when we see a significant uptick in ransomware attacks on companies providing critical services to the public," said Reuven Aronashvili, CEO and founder of CYE. "CYE aims to alleviate the burden on companies that can't afford operational downtime, while giving them peace of mind that they are protected against any future need to pay a heavy ransom."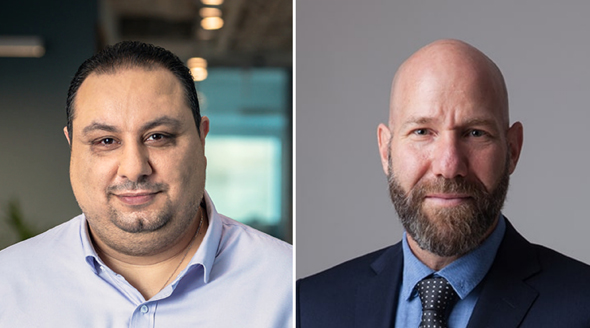 Reuven Aronashvili (left) and Daniel Bren OTORIO. Photo: Oren Kan Ykan Studio / OTORIO

Cyber and ransomware attacks have seen a significant increase over the last several months, with prominent attacks on American soil taking place every few months. One attack on the Colonial Pipeline caused fuel shortages across the country's east coast for more than a month and led to a $4.4 million payout. In response to the increased cyberattacks, the U.S National Security Council called on cyber leaders to protect it against ransomware attacks, highlighting the responsibility that the private sector has to help the federal government strengthen its protection.

"Cybercriminals have become as powerful as nation-state adversaries, posing a real threat to operational continuity," added Daniel Bren, CEO and co-founder of OTORIO. "Building on OTORIO's extensive experience protecting industrial and mission-critical environments, our joint solution simplifies cybersecurity for converged IT/OT/IoT environments by adopting a proactive risk-reduction approach instead of traditional intrusion detection and response methods. "

CYE and OTORIO provide cyber visibility across IT, OT, and IoT environments, helping pipeline operators gain a clear understanding of their network assets and who has access to their environment. As well as this, they can help operators quantify risks, identify exposures, and help them build long-term best practices. The solution is automated and simplifies the compliance process and risk monitoring.

CYE was founded in 2012 and has 80 employees, headquartered in Israel with offices in the U.S and UK. In February, the company raised a $120 million Series A round. OTORIO was founded in 2017 and has offices in Austria as well as Israel.