IoT startup Wiliot secures $200 million investment led by SoftBank Vision Fund 2
The Israeli company didn't reveal its valuation, but it is estimated to be in the region of $1 billion
Israeli startup Wiliot announced on Tuesday that it has completed a $200 million Series C funding round led by SoftBank Vision Fund 2. The company had raised $70 million previously. CEO and co-founder Tal Tamir said that the Series C was oversubscribed and that most of the new funds will enter the company coffers and only a small portion will be used for secondary deals. Wiliot's valuation was not revealed, but it is estimated that the company was valued at around $1 billion in the round.

Wiliot has developed a stamp-size computer, based on ARM architecture, named Wiliot IoT Pixels. These self-powered tags attach to any product or packaging to sense a range of physical and environmental data that is then fed into the Wiliot Cloud.

As part of the investment, Amit Lubovsky, Investor for SoftBank Investment Advisers, will join Wiliot's Board of Directors.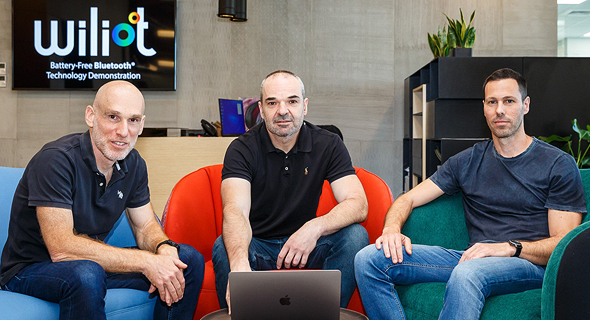 Wiliot co-founders. Photo: Nimrod Gnisher

This is the fourth investment SoftBank has made from its Vision Fund 2 in an Israeli company in 2021. The company also recently appointed former director of Mossad, Yossi Cohen, as its representative in Israel. Among the Israeli companies to receive investments from SoftBank are AnyVision, Redis Labs, and Cybereason.

"I really wanted SoftBank to invest in us as we share the same vision," Tamir told Calcalist. "We both believe that with IoT and AI you can make the world a better place. When we presented the company to Masayoshi Son (SoftBank CEO) I felt that he was a very sharp person and that he connected with our field. They conducted a thorough examination of the company. Due to ARM, they have a very deep relationship with the hardware world and they view us as an important asset."

"We provide sensors that look like stickers and can provide every possible information on medicine, food, or agricultural products," added Tamir. "We add these stickers to food packaging and it tells us when the food was packed, how fresh it is, and any information you require in order to ensure it doesn't go bad. This can reduce 40% of food waste.

"We have been working with many clients over the past year-and-a-half and are moving from a pilot stage to a full payment stage. We work with all the big retail companies and the big pharma companies. The companies don't pay us for the sensors but for the information we provide them."

SoftBank joins existing investors that include 83North, Amazon Web Services, Inc. (AWS), Avery Dennison, Grove Ventures, M Ventures, the corporate VC of Merck KGaA, Darmstadt, Germany, Maersk Growth, Norwest Venture Partners, NTT DOCOMO Ventures, Qualcomm Ventures LLC, Samsung Venture Investment Corp., Vintage Investment Partners, and Verizon Ventures.

Wiliot will use the funds to significantly grow its teams at its development center in Caesarea and new R&D center in Tel Aviv. The company is also expanding into additional regions, including Japan and more countries in Europe.

Wiliot-enabled products and packaging can sense temperature, fill level, motion, location changes, humidity, and proximity. Wiliot IoT Pixels can be integrated into vaccine vials, food packaging, and more, bringing real-time transparency to the supply chain, and the ability for brands for the first time to understand inventory levels throughout their retail channels. They can even understand how their products are used in customers' homes through a highly secure, privacy-protected platform. All this will provide consumers with increased convenience, fresher, safer food, less waste, lower medical costs, and a lower environmental impact.

"We have always believed that with IoT and AI, people will live better and healthier lives – where any food or medicine has the ability to understand if it's safe to use and communicate seamlessly with people," said Yanni Pipilis, Managing Partner at SoftBank Investment Advisers. "We are pleased to play a part in helping Wiliot dramatically scale the ever-expanding application of IoT globally."