Exclusive
Yotpo heading to Nasdaq at $2.5 billion valuation
The Israeli marketing service company will be aiming to raise $400-500 million in its IPO
Five months after completing a $230 million funding round at a $1.4 billion valuation, Tel Aviv-based marketing service Yotpo is preparing to go public on Nasdaq. Calcalist has learned that Yotpo is aiming to raise $400-500 million in its initial public offering (IPO), which is set to take place at the beginning of 2022 at a valuation of $2-2.5 billion.

Yotpo is expected to select the investment banks that will lead the IPO in the coming weeks, with company representatives meeting five leading banks over recent months. Yotpo is being accompanied through the process by attornies the Meitar Law firm.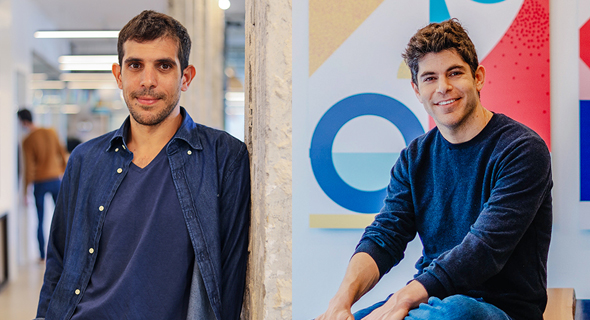 Yotpo co-founders Omri Cohen (left) and Tomer Tagrin. Photo: Mor Shani

Yotpo was founded in 2011 by Omri Cohen and Tomer Tagrin as a platform for creating consumer reviews and visual content. It is working to create a full platform experience by connecting its current products — which to date include Yotpo SMS Marketing, Yotpo Loyalty & Referrals, Yotpo Reviews, and Yotpo Visual UGC. This connected suite of solutions is meant to unlock unified customer data that will allow brands to get more from every campaign and maximize their ROI.

The company decided to choose the route of a traditional IPO over the option of merging with a SPAC, despite receiving several offers. Many of the Israeli companies that merged with SPACs over the past year saw their share price drop sharply following their listing. Yotpo will be hoping, on the other hand, to follow in the footsteps of the likes of fellow e-commerce company Global-e, which went public at a $3.5 billion valuation earlier this year and has since seen its market cap rise to $10 billion.

Yotpo announced with its Series F round in March that it plans to double its product and R&D team, with its total workforce at the time numbering 500 workers in offices in Tel Aviv, Yokneam, New York, London, and Sofia, Bulgaria. The company said at the time that it serves over 30,000 customers including brands like Patagonia, Revolution Beauty, Brooklinen, Steve Madden, and Princess Polly.

In January 2020, Yotpo acquired SMSBump, which added text messaging capabilities to its arsenal. In such a way online stores could add another channel of communication with their clients, updating them on their order status, informing them about special deals, and sending them personalized shopping options.