D-ID and Oblio partner with Warner Bros. to create a personal experience for movie fans
The Israeli startup and the digital studio are collaborating with Warner Bros. and calling on users to create a personalized movie trailer for the new Hugh Jackman film 'Reminiscence.'
Israeli creative AI company D-ID is collaborating with digital studio Oblio and Warner Bros. Pictures to give viewers a chance to star in the trailer for the new Hugh Jackman's film 'Reminiscence'. Oblio, a studio specializing in the use of technology in film, has leveraged D-ID's patented Live Portrait technology to enable Warner Bros. a new way to connect with movie fans.
Users are invited to participate in an immersive experience, where their still photos are uploaded, animated, and inserted into the movie's trailer. Users can then share these personalized movie preview videos through the social media channels of their choice.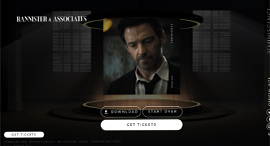 Reminiscence Website screenshot
D-ID is a startup based in Tel Aviv specializing in patented video reenactment technology using AI and deep learning. Founded in 2017, it created the first facial image de-identification solution to protect images and videos from facial recognition software. To date, it has raised $23 million from Y Combinator, Pitango, AXA, Foundation VC, AI Alliance, and others, as it aims to lead media use of AI.
Oblio, an innovative content creation studio, has previously worked with Warner Brothers to create immersive experiences for the Wonder Woman movies, Knives Out, J.K. Rowling's Fantastic Beasts series, and other major movie releases.
Ben Posedel, a producer at Oblio, said that "with the foundational piece of the film narrative being the idea of going back through memory, we immediately thought about the work being done in this space and how we could build with the tools D-ID has developed. It doesn't happen often that the creative and the technical capabilities overlap so perfectly, but when it does, it makes for very exciting collaborative opportunities."