Israeli medical device company Memic to merge with SPAC at more than $1 billion valuation
Memic is set to merge with Nasdaq-traded MedTech Acquisition Corporation, with the combined company expected to hold approximately $360 million in cash
Israeli medical device company Memic Innovative Surgery, which has developed a robotic-assisted surgery solution, announced on Friday that it has reached an agreement to merge with MedTech Acquisition Corporation, a publicly-traded special purpose acquisition company (SPAC) focused on medical technology.

The combined company is set to have an estimated pro-forma equity value of more than $1 billion. The combined company's estimated cash balance will consist of MedTech's $250 million cash held in trust, assuming no redemptions by public stockholders, $76 million from the private placement of ordinary shares with investors (PIPE), and $63 million from the current balance sheet of Memic. The combined company is expected to hold approximately $360 million in cash. The PIPE is led by various investors, including Bridger Healthcare, Ltd., The Kraft Group, Monashee Investment Management LLC, Pura Vida Investments, Wellington Management, Ken Langone, Peregrine Ventures, HighSage Ventures, and management and board members of MedTech.
Memic employees. Photo: Roei Mizrahi

Upon the closing of the transaction, the combined company will operate under the Memic name and Maurice R. Ferré, MD, an independent director of MedTech and current Chairman of the board of Memic, will become Executive Chairman of the combined company. Memic will apply to have its ordinary shares listed on Nasdaq. The business combination is expected to be completed in the fourth quarter of 2021.

"We are pleased to reach a merger agreement with MedTech, which represents a significant opportunity to advance the robot-assisted surgery market in ways that, until now, have been unattainable," said Dvir Cohen, co-founder and CEO of Memic. "We believe the Hominis platform has the potential to transform the way surgeons perform robot-assisted procedures, beginning with our currently FDA-authorized indications that include transvaginal benign hysterectomy. Our partnership with the MedTech team, which provides decades of collective experience in surgical robotics, is an important step in bringing our advanced technology to medical facilities and patients across the United States and the world. We look forward to entering the public markets and working together with MedTech in the next phase of our company's journey."

Memic was founded in 2012 by Cohen and Peregrine Ventures and initially operated in the Peregrine-run Incentive Incubator. The company currently employs 110 people, 80 of them in Israel. Memic has an R&D center in Or Yehuda and an engineering center in Acre where the robots are manufactured. Memic has set up a wholly-owned subsidiary in Fort Lauderdale, Florida which is in charge of global customer services, professional education, sales, marketing, and clinical research.

The company's first FDA approval was for use in single-site, natural orifice laparoscopic-assisted transvaginal benign surgical procedures including benign hysterectomies. It is the first and only FDA-authorized surgical robotic platform that features miniature humanoid-shaped robotic arms that provide human level dexterity, multi-planar flexibility, and 360 degree articulation. The biomimetic instruments are designed to replicate the motions and capabilities of a surgeon's arms, with shoulder, elbow, and wrist joints. Multiple instruments can be introduced to the body through a single portal and the 360-degree articulation offers obstacle avoidance as well as optimal access and working angles.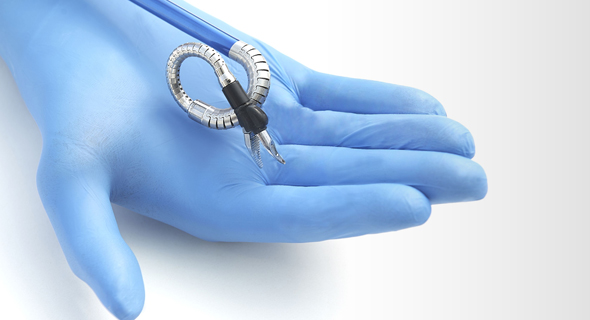 Memic's robot the Hominis. Photo: Memic

In addition to these features, the system will be sold at a significantly lower price compared to other marketed robotic surgery systems, potentially allowing more medical facilities including hospitals and ambulatory surgical centers to access and adopt surgical robotics.

Memic announced the closing of a $96 million Series D financing round in April of this year. Memic had previously raised $20 million in two funding rounds, including $2 million from the Israel Innovation Authority.

Uri Geiger's Accelmed fund, which is anchored by investments from Mori Arkin and Migdal Insurance, invested $100,000 in Memic when it was founded and $2 million in total. Accelmed will register a return of 30 times its investment in the company.

Approximately 600,000 hysterectomies are performed annually in the U.S. The transvaginal approach is well-documented and results in better clinical benefits, including less patient pain and scarring, shorter recovery times, and reduced infection rates, compared to other traditional approaches to hysterectomies. In a recent clinical study that took place at the Rambam Health Care Campus in Haifa led by Prof. Lior Lewenstein, the Hominis system was used to perform 30 hysterectomies. All of them were completed successfully with the transvaginal approach resulting in no device-related adverse events or intraoperative complications.