Circles raises $8 million for online support and wellness access
The Israeli startup, which received funds from NFX, Flint Capital, and Sir Ronald Cohen, matches groups of 6-8 people for one-hour video meetings who are facing similar difficulties such as divorce, grief, or medical diagnoses
Online support group platform Circles has announced that it has raised $8 million in Seed. The platform is designed to help users overcome life's challenges such as the loss of a loved one, divorce, or other moments by matching users based on similar issues or experiences. The round was led by NFX and Flint Capital with participation from Sir Ronald Cohen, Jeff Swartz, and others.

"We all go through issues in our lives where we need someone to talk to," said Irad Eichler, founder and CEO of Circles. "But not every challenge requires therapy and, more importantly, sometimes the best way to feel better is to surround yourself with people who actually understand you in a truly empathetic way. This desire to connect with others who are going through the same challenges often means we wind up on Facebook groups or these other unstructured online forums, but those outlets don't enable the types of meaningful connections needed to help people feel better. With Circles, people never have to face their struggles alone."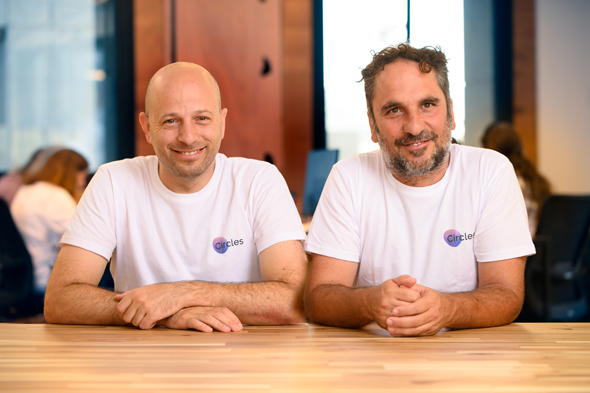 Circles Founders. Photo: David Garb

Recent years have undergone somewhat of a reckoning when it comes to mental health and the importance of maintaining a healthy frame of mind through difficult moments. Despite this, there are few options aside from professional therapy which is usually expensive and difficult to access. Various studies have all suggested that developing connections in group settings is a key aspect in overcoming life's challenges - something more essential during the pandemic and incessant lockdowns.

Circles matches groups of 6-8 people for one-hour video meetings who are facing similar difficulties such as divorce, grief, or medical diagnoses, and provides an intimate and private emotional support setting for them to gather. Users also have the ability to message each other and access self-help exercises, blogs, and webinars with relevant content.

"Circles has the potential to completely change the world for the better," said Gigi Levy-Weiss, General Partner at NFX. "Mental health and emotional wellbeing are so critical but before Circles, most people couldn't access support options that would work for them. By combining truly innovative technology with a model built on research, Circles solves this problem. It is an honor to partner with Irad and the team to help take Circles to the next level."

Sergey Gribov, Partner at Flint Capital added: "Over the last year and a half, there has been a sharp increase in anxiety and emotional distress due to the Covid-19 pandemic, causing millions of people to seek help and relief. The power of Circles is that it makes emotional health accessible to anyone, anywhere and it's as easy as simply opening an app."

Since its soft launch in 2020, the platform has matched thousands of people and facilitated 100,000 hours of support. Currently, Circles is focused on providing group support for grief, relationships, and separation or divorce. It was founded in 2020 by Eichler and Dan Landa, who serves as the company's CRO.