Exclusive
Airobotics IPO flops, cutbacks imminent
Calcalist has learned that the Israeli UAV company didn't manage to raise the $12 million it had planned at a $50 million valuation, with the demand not even reaching the minimum threshold
Israeli UAV company Airobotics has failed in its attempt to go public on the Tel Aviv Stock Exchange. Calcalist has learned that the company didn't succeed in raising the $12 million it was targeting at a $50 million valuation. Demand in the IPO added up to just a few million dollars, not even reaching the minimum threshold of $6 million. As a result of this failure, Airobotics is planning wide scale cutbacks that will also include sackings.

The valuation Airobotics was targeting was just 20% of what the company was valued at less than three years ago ($240 million). Leumi Partners and Discount Capital served as underwriters for the IPO. The revenue generated from the IPO was meant to fund the company's activity and its roadmap which included expansion and investment in R&D.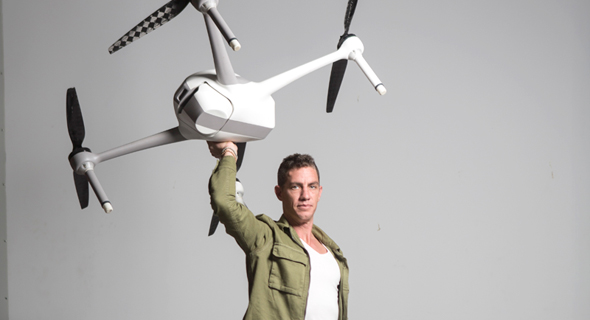 Airobotics co-founder Ran Krauss. Photo: Tommy Harpaz

In the past, the company specialized in developing unmanned aircraft and selling them to industry players, but it has shifted to offering mapping and data services, producing the drones for infrastructure and city mapping services, and selling the data to various stakeholders.

The Israeli company has raised $132 million to date and employs more than 80 people, most of them in Israel. It is currently active in Singapore, Houston, and Tel Aviv, with another center under construction in Dubai. The company registered revenue of just $1.6 million in 2020, finishing the year with a loss of $14.3 million following a loss of $33.3 million in 2019.

Airobotics said in response to the report: "The company hasn't given notice before firing to employees. The company is considering its next steps and hasn't decided yet in which direction it will head. Airobotics has enough money in its account, including $4.5 million raised in a pre-IPO funding round."