Digital wallet usage surges by 13.5x since Apple Pay's rollout in Israel
Since July, digital wallet transactions grew by 23% compared to June. Over half of all credit card transactions were conducted through the EMV advanced payment infrastructure
The entry of Apple Pay's digital wallet in Israel last May continues to dramatically increase the use of digital wallets across the country. Figures published on Thursday by Israel's Automated Bank Services (SHVA) - which manages a national credit card payment system - state that within three months the number of digital wallet transactions leapt more than 13 fold.

Digital wallets have existed in Israel for about a year, although their use increased once Apple Pay entered the arena. Apple users are considered more likely to rapidly adopt new technologies. In addition, Apple Pay's entry accompanied widespread campaigns which increased digital wallet awareness and even increased use among Android users.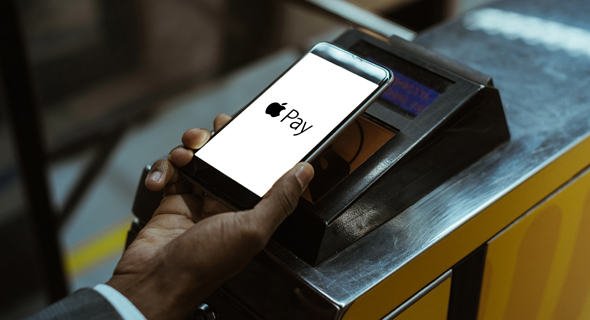 Apple Pay's roll out boosted the use of other digital wallets in Israel. Photo: Shutterstock

The main increase took place after their initial launch, where the number of such transactions was eight times greater than in April. In July, the trend continued but at a low growth rate, and increased by 23% compared to June.

The Automated Bank Services does not provide data detailing the financial volume of transactions carried out through digital wallets, but it should be noted that despite their leap in use, it is still a relatively low percentage of all credit card uses. (The credit card industry estimates digital wallet transactions to only comprise between 5-10% of all credit card uses.)

In addition, the report cites that use of the advanced payment infrastructure of EMV or Europay, Mastercard and Visa has continued to grow by 56%. Credit card transactions in July were conducted through the EMV system, showing 7.7% growth compared to June 2021.

By the end of July, nearly all Israeli businesses were meant to transition to incorporating EMV infrastructure, but the Bank of Israel agreed to postpone the transition until the end of the year due to the coronavirus (Covid-19) crisis and the harm caused to world supply chains which struggled to equip themselves with such payment methods.