Vehicle cybersecurity startup Upstream completes $62 million Series C
The Israeli company has developed a cloud platform for automotive cybersecurity and data analytics for connected vehicles and counts some of the world's leading automotive OEMs as clients
Israeli vehicle cybersecurity startup Upstream Security announced on Tuesday that it has completed a $62 million Series C round. Upstream revealed back in May that it received a $36 million investment from Japanese-based insurance giant Mitsui Sumitomo Insurance (MSI), as well as a $2.5 million investment from Israeli insurance company Direct Insurance. The company now announced that it received an additional $24 million in funding from new investors I.D.I. Insurance, 57 Stars' NextGen Mobility Fund, and La Maison Partners. These parties join Upstream's existing investors Glilot Capital, Salesforce venture, Volvo Group Venture Capital, Nationwide, Delek US, and others. Upstream CEO Yoav Levy told Calcalist that most of the money will be invested in the company and only a small percentage will be used to acquire shares from employees and early investors.

Upstream has developed a cloud platform for automotive cybersecurity and data analytics for connected vehicles. "We are at the heart of the activity for a large number of auto companies that require from us a strict standard. That is why we are recruiting a large number of employees," Levy told Calcalist. "Some of the auto companies that invested in us are also integrating our system. We have raised $105 million to date and with each round, we tripled our valuation. We are not a unicorn yet, but I estimate that we will be in our next round."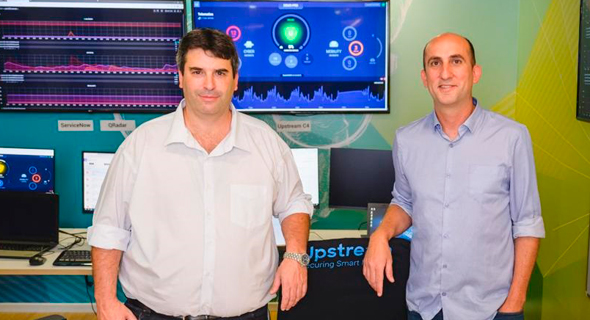 Upstream Security co-founders Yoav Levy and Yonatan Appel. Photo: Yarin Ternos

Levy said the global semiconductor shortage has hurt the auto industry, but didn't affect his company as its system is installed on the cloud. "A new regulation has been put in place in the auto industry over the past year which requires the monitoring of connected vehicles and their surroundings at all times. Companies must monitor vehicles from a cybersecurity standpoint from the moment the vehicle hits the road. Our system monitors the data from the vehicle and we search for anomalies and weaknesses. Our solution is necessary both from a cybersecurity and regulatory standpoint."

Founded in 2017 by Yoav Levy (CEO) and Yonatan Appel (CTO), Upstream offers specialized cloud-based data services for connected cars, including cybersecurity, quality enhancement, and data monetization opportunities. Upstream's solutions already protect millions of vehicles on the road today against cyber threats, and its customers include some of the world's leading automotive OEMs, as well as tier 1 and tier 2 suppliers, mobility service providers, and others.