Qwilt raises $70 million at $800 million valuation in Series E led by Cisco
The Israeli company has developed software that accelerates the pace and streaming of live video and VOD broadcasts and reduces latency
Israeli company Qwilt announced on Wednesday that it raised $70 million at an $800 million valuation. The Series E round was led by Cisco and included the company's existing investors. Qwilt refused to specify whether the round also included a secondary element in which shares will be purchased from employees.

Qwilt has developed software that accelerates the pace and streaming of live video and VOD broadcasts and reduces latency. The company's product is already integrated into Cisco solutions as part of a strategic partnership announced last year.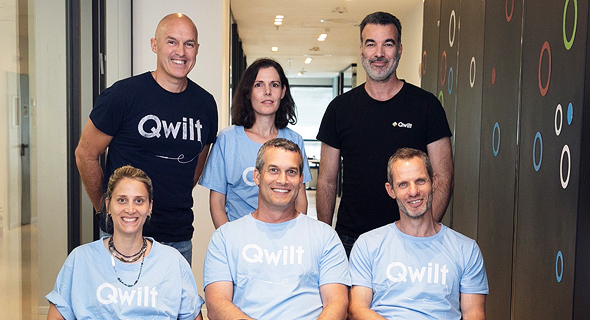 Qwilt management. Photo: Bertzi Goldblat

The video sector is regarded to be one of the most challenging when it comes to network traffic, as usage is growing at a very fast rate and the old infrastructure wasn't built to support such heavy files. Qwilt's technology optimizes network traffic in order to allow a continuous and high-quality broadcast. When the company's system recognizes high demand for certain content, it uses Open Caching of the content at a location nearest to the center of consumer demand and improves the streaming and viewing experience. The software is cloud-based and can be operated from any location and be integrated into existing infrastructure.

"Following the investment Cisco will promote Qwilt's solution with all its global clients," Qwilt CEO and co-founder Alon Maor told Calcalist.

How did the partnership with Cisco evolve into becoming one of the biggest investments Cisco has ever made in a private company?

"Ultimately, we are people who see the future in the same way. We understood that both we and Cisco have similar thinking and vision for this sector and it developed into a situation in which we understood that a synergy between the companies could create one of the biggest CDN (Content Delivery Networks) platforms in the world. Over the past year, even our biggest clients admitted that our solution works better and we reached a point that forces us to grow. We doubled our number of employees and Cisco identified the opportunity and wanted to lead a round."

Qwilt's solution was integrated over the past year in the streaming services of Disney+, as well as in the infrastructure of British Telecom, TIM of Brazil, Telecom Argentina, and other media giants. Qwilt plans on recruiting an additional 150 employees over the coming year, 100 of them in programming positions based in Israel.

Will the escalating competition for tech employees in Israel not make it more difficult for you to recruit employees?

"Reaching the top talent in Israel was always difficult and I personally think it is just as difficult as it always was. But if you have a good company you will eventually reach good people and that hasn't changed."

Covid-19 and the launch of many streaming services significantly increased the usage of video. Did that also result in the birth of new competitors?

"It is very difficult to build competitors in this sector because the entry-level is really high and our company has been in the market for almost a decade. It takes a long time to build technology and to reach giant clients, but you can see companies that started when we did and are being traded at valuations of billions of dollars."

Maor isn't ruling out an IPO in the coming years. "This funding allows us to reach every possible growth scenario so all the options are on the table," he said.

Qwilt is currently in the process of setting up infrastructure in Israel that will allow local consumers to benefit from the services of some of its biggest clients in 2022.

Qwilt was founded in 2010 by Maor, Dan Sachar, Giora Yaron, and Yuval Shachar. It has raised $134 million to date and its investors include Tal Barnoach's Disruptive, Innovation Endeavors, Accel, Bessemer Venture Partners, and Redpoint Ventures.