Delivery platform Avo raises $45 million Series B to build on 1000% growth
The Israeli startup provides a technological platform for a consumer network made of apartment buildings and big companies, allowing any employee or tenant to order any product they need without shipping fees
Israel-based Avo, a vertically integrated residential and office delivery platform, announced on Wednesday that it has raised $45 million in Series B funding led by Insight Partners, with participation from existing investors Kleiner Perkins, JLL, and Phoenix Group.

The company was founded in 2017, originally delivering baby products to parents at nurseries in Tel Aviv. Since then, Avo has expanded its offering and reach across Israel and into the U.S. (currently New York, New Jersey, Chicago, and Houston, with a new major market being added every month), serving thousands of residential communities, corporations, hospitals and universities. Avo provides a technological platform for a consumer network made of apartment buildings and big companies. It allows any employee or tenant to order any product they need without shipping fees. The company said growth has increased dramatically with revenue growing 1000% over the past two years.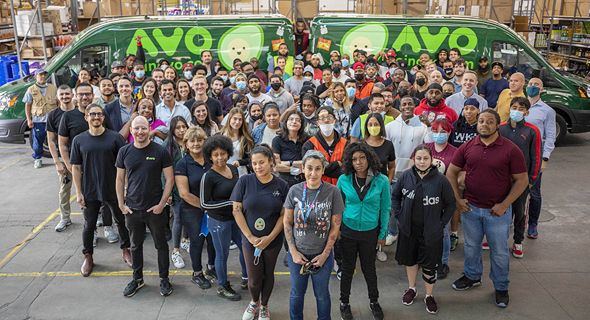 Avo team. Photo: Stephan Kolpko

"Our belief is that people shouldn't be surprised by last-minute fees at checkout. If you've ever had the experience of building a $15 cart with a delivery service, only to reach the checkout page and find that the amount has doubled due to fees, you can relate. At Avo, you can order as little as a single avocado, and that's all you'll pay for," shared Dekel Valtzer, CEO and Co-Founder of Avo, and previous head of finance and operations at monday.com. "Our customers deserve to be delighted, and that's what we set out to do everyday."

Avo operates in one of the most competitive markets in the world. The world of retail deliveries has global giants like Amazon and Walmart and in Israel, it includes most grocery retailers like Shufersal, Rami Levy, Quick, and others.

Valtzer's model is a simple one, instead of providing one product for one person, it will provide 100 products for 100 people living in the same building, or working in the same company.

To date, Avo raised about $40 million in several rounds. Investors include Joey Low, who was WeWork's first investor, the prestigious Y Combinator accelerator, the American venture capital fund Kleiner Perkins, who was Amazon's first investor, and is considered one of the most prominent funds in Silicon Valley, and other private investors from Facebook and Uber. Valtzer, a former tennis champion who played for Israel's Davis Cup team, co-founded Avo with Idan Hershko, VP of Customers, Nir Smadar, VP of Product, and Neri Bluman, VP of Operations.

To enhance the resident experience for those staying at home more often, Avo partners with prominent real estate developers and property managers, including Related, Extell, Greystar, FirstService Residential, Tishman Speyer, Cushman & Wakefield and JLL. Alternatively, Fortune 1000 organizations such as Facebook, KPMG Microsoft, Apple, AT&T, Booking.com and PwC use Avo to increase employee engagement, satisfaction, and retention.

"We at Insight are excited about Avo's vision of transforming the delivery landscape while providing their clients with an innovative way to drive engagement and retention with their tenants and employees," said Jeff Horing, Managing Director at Insight Partners.