Israel's Guardicore acquired by Akamai for $600 million
Gurdicore's technology enables large companies, such as financial institutions, to compartmentalize their servers in order to prevent security issues, data breaches, and identify attacks
Akamai is purchasing Israeli startup Guardicore for $600 million in an all-cash deal, the companies announced on Wednesday. Guardicore was founded in 2013 by Pavel Gurvich (CEO), Ariel Zeitlin (CTO), and Dror Sal'ee (VP APAC) and has since raised $110 million. Akamai is a U.S.-based company traded on Nasdaq with a market cap of $17.2 billion. Akamai has developed a global content delivery network, and provides cybersecurity, and cloud services. The company said it plans to add Guardicore's micro-segmentation solution into its Zero Trust security portfolio.

Previous investors in Guardicore include Qumra Capital, Deutsche Telekom Capital Partners (DTCP), Partech Ventures, ClalTech, Battery Ventures, 83North, TPG Growth, Dell Technologies Capital, and Greenfield Partner.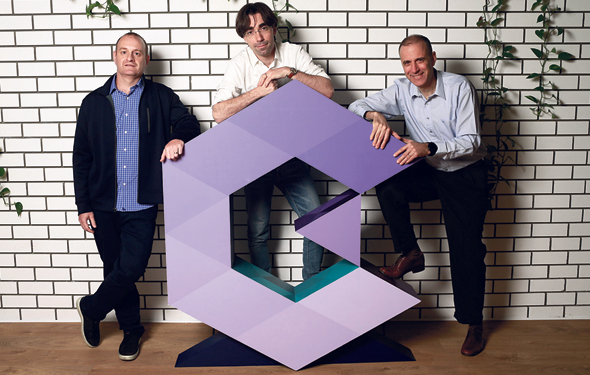 Guardicore co-founders. Photo: Amit Shaal

The company employs 350 people and has R&D, Sales and Support departments in Israel, as well as offices in the U.S., Canada, Brazil, India, Mexico and Europe.

Gurdicore's technology enables large companies, such as financial institutions, to compartmentalize their servers in order to prevent security issues, data breaches, and identify attacks. What's unique about Gurdicore's solution is that it is purely software-based and doesn't require any hardware installation on clients' servers. Most large companies nowadays employ a large number of private and public servers, with the more activity there is on the cloud, the more difficult it is to track and map out. Guardicore's product enables clients to attain a clear picture of what's taking place on the cloud in order to determine key rules and detect vulnerabilities and breaches.

The closing of the transaction, which is subject to customary closing conditions, is expected to occur in the fourth quarter of 2021, with Akamai saying that for fiscal year 2022, the Guardicore acquisition is anticipated to provide about $30-35 million in revenue.

"We were in the midst of a funding round and began to receive all kinds of offers," Gurvich told Calcalist. "We had an opportunity to continue and raise funds but we saw a unique opportunity in combining the technology of our product and Akamai's capabilities. Their ability to accelerate our technology can be significant."