EquityBee secures $55 million in B round
The Israeli start-up offers a marketplace where startup employees who lack the necessary funds to exercise their stock options can find investors, in return for a part of the potential future gains
Israeli start-up company EquityBee, announced Wednesday it secured $55 million in its Series B round. The round was led by Dovi Frances' Group 11 fund, and included existing investors Battery Ventures, Altair Growth Ventures, and ICON, as well as new investors Local Globe's Fund - Latitude and Greenfield Partners.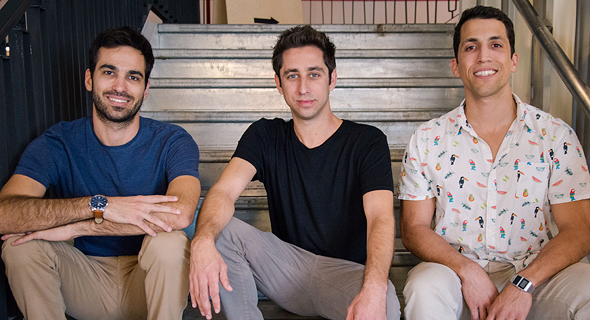 EquityBee founders Oded Golan (left), Oren Barzilai, and Mody Radashkovich. Photo: Courtesy

EquityBee offers a marketplace where startup employees who lack the necessary funds to exercise their stock options can find investors, in return for a part of the potential future gains, for example, in case of an initial public offering or if the company is acquired. This new investment round brings the company's total capital raised since the beginning of 2021 to $75 million and a total of $83 million since its inception.

The company stated that the total capital raised from investors on its platform for financing options of start-up employees increased by 500% in the second quarter of 2021, compared to the same period the previous year. The number of people in Israel and in the U.S. who used EquityBee during this period increased by more than 350% compared to the previous six months. EquityBee's investor community, which includes qualified investors and family offices, grew by more than 430% during that period, reaching about 12,000 investors.

Oren Barzilai, CEO and founder of EquityBee, said: "The many recent exits prove that options change the lives of employees who earn significant sums thanks to our solution, and without being required to take the capital out of their pockets to exercise the options. Of course, the investor community that enabled those employees to realize their options through EquityBee benefits as well."

"According to our worldview, the workforce who invest their time in building the start-up are partners just as much as other investors in the company. Therefore, it is important for us, during this period too, to continue and improve our understanding of start-up employees in Israel, and in everything related to employee options through the development of new tools and content on the subject."