NeuroBlade raises $83 million for processing-in-memory solution
The Israeli startup has developed a new data analytics architecture that eliminates major data movement bottlenecks by integrating the data processing function inside memory
Tel Aviv-based startup NeuroBlade announced on Wednesday that it has secured $83 million in Series B funding, bringing total invested capital to $110 million. The investment was led by Corner Ventures with contribution from Intel Capital, and supported by current investors StageOne Ventures, Grove Ventures and Marius Nacht. Additionally, technology companies including MediaTek, Pegatron, PSMC, UMC and Marubeni also provided funding during this round.

NeuroBlade has developed a new data analytics architecture that eliminates major data movement bottlenecks by integrating the data processing function inside memory, better known as processing-in-memory (PIM). PIM has been a pipe dream for decades, but NeuroBlade claims to be the first company to successfully bring this innovation to production.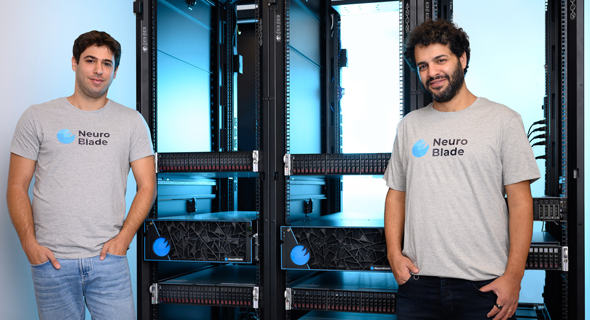 NeuroBlade founders Elad Sity (right) and Eliad Hillel. Photo: David Garb

"We built a data analytics accelerator that speeds up processing and analyzing data over 100 times faster than existing systems. Based on our patented XRAM technology, we provide a radically improved end-to-end system for the data center," said Elad Sity, CEO and co-founder of NeuroBlade.

NeuroBlade employs more than 100 people and is currently recruiting dozens of new employees in Israel and abroad. It was founded in 2018 by Elad Sity and Eilad Hillel, both former members of Unit 81 of the IDF. The company's team has veterans from companies like Intel, Marvell, SolarEdge and TI, with Sity working at SolarEdge from its founding until 2018 when it was valued at billions of dollars.

NeuroBlade raised $23 million in its Series A and $4.5 million in its Seed round. "This funding reflects the stage that we are in," Sity told Calcalist. "In Series A we raised funds to prove our technology and this is a round aimed at taking our product to market. The company is valued at hundreds of millions of dollars, but isn't close to being a unicorn. We still have room to grow."