"The competition for talent made us look inward and ask what our employees need"
Calcalist's Tech@Work conference brought leading HR executives and recruiters to discuss the talent shortage, and what changes are required to get the candidates you want
"The competition for talent made us look inward, take stock and ask what our employees need. It is amazingly beneficial to the organization, to our employees, and it adds value to the entire industry," said Judith Yampolsky, Amdocs' Head Of Human Resources, at Calcalist's Tech@Work conference. "We begin to observe how we are affecting the company as a whole. The discourse is shifting from fast recruitment to an inward look at the human capital we have, making sure employees are satisfied, and they have somewhere to advance to."

According to Yampolsky, the biggest change in recruitment today is a correlation between the brand and what is happening inside. "It is very easy to detect if what we put on billboards is happening within the organization. In the end, our candidates are also those who work with us in the organization, so there must be a match between what we say to an outside candidate and what our employee tells his friend, so we work hard to produce the correct organizational culture."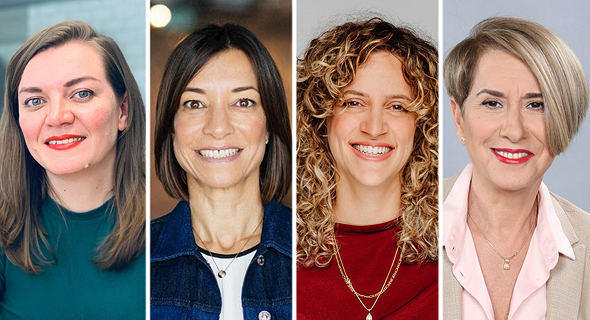 Lisa Zaythik (left), Sigal Gill More, Oshrat Binyamin, and Judith Yampolsky

Due to the tough competition over employees, the shortage of human capital with the proper skills, and the needs of growth companies, there is a lot of room for creativity in recruitment, said Lisa Zaythik, Chief People Officer at AppsFlyer. "When there is so much competition we have to think about what experience we want to produce, and how it sticks with candidates, even if they do not get a job offer. There is a lot of room for creativity in areas of creating an experience for employees as well. Employees who leave the company can return in a different capacity after a while," she said.

Oshrat Binyamin, HR vice president at monday.com, said companies understand that while a company continues to grow, it is not simply keeping the flow of new people in. "At some point, after half a year or eight months, employees start asking themselves what is next, what can the organization offer me. Here, we break the notion that in order to advance in an organization you must be a manager. You do not have to. There are many other ways to advance if it is by expanding within your position or expanding to the side, and we put a lot of effort into showing the employees that there is a future here and a trajectory. This is one of the most significant things for employee retention today."

Regarding recruiting new employees and expanding companies' target audience due to the lack of experienced talent, Benjamin said that "on the one hand, more opportunities open up for people from non-technological fields, however, those who do not work in tech have difficulties getting their foot in the door. That is the big challenge, how do you take those individuals, social workers, or lawyers for example, who work in different companies but not in tech, and create a gateway for them. This is a challenge that we have not yet cracked to the fullest and I think that is our responsibility as companies."

According to Sigal Gill More, Chief People Officer at SimilarWeb, "we all prefer those with five years of experience, who have already done everything and worked for four companies and are now coming to us for 10 years, but that is not what is happening. That is why we invest in recruiting talents with potential and are willing to invest in the training of students and graduates. What is happening less today than in the past are academics retraining, therefore we are investing more in retraining tracks within the organization. Organizations are taking upon themselves the responsibility of training more people than ever before."

When it comes to recruiting, according to Gill More, one of the essential changes is that it has become much more digital. In addition, candidates today want a quick, easy and transparent process for them. "Because we all recruit and every candidate has a lot of alternatives, certainly the good candidates, it is important to reach the candidates at the right time and to conduct a very intensive, very transparent and relatively easy process for them, although of course, we want to test the candidates as much as possible. It is a big challenge to do so and maintain the best possible experience for the candidates," she said.